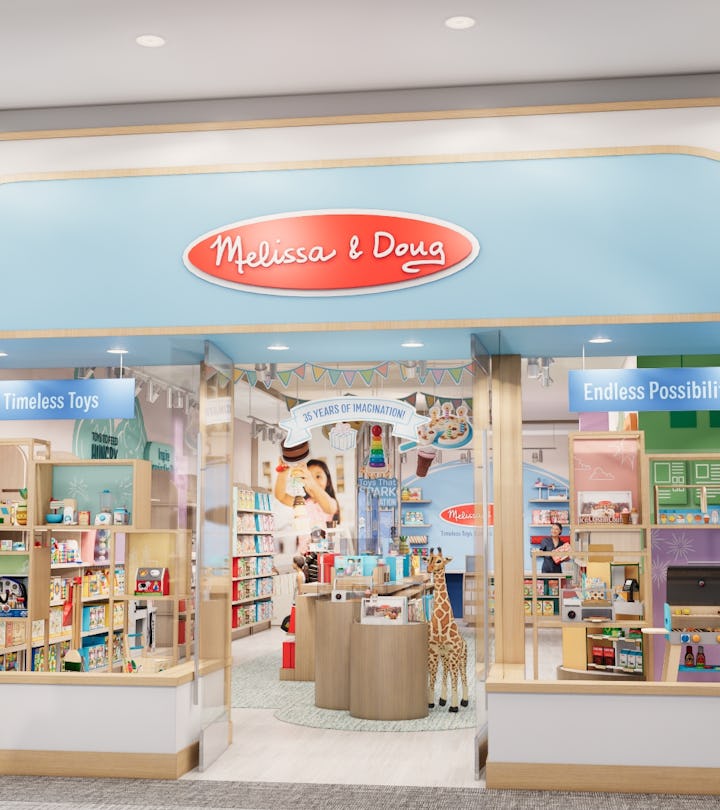 Melissa & Doug
Take A Tour Of Melissa & Doug's First Ever Retail Store
Hopefully it's the first of many.
Every parent, and apparently doctor's office, knows that Melissa and Doug toys just rock. They're affordable, sturdy, and the right price point. Customers can find tons of engaging options under the $10 range, and even the most elaborate of their products aren't obscenely expensive. There's a reason why nearly every single toy store carries their products, sometimes a small and tiny edited selection or they devote rows and rows of shelves to a brand they know sells. For the first time ever though, in their 35-year history, Melissa and Doug is opening their first brick-and-mortar retail store of their own.
The new Melissa and Doug store, which opens on October 6, 2023, is located in White Plains, New York, on the third floor of The Westchester mall. As soon as you walk into the 1,600-square-foot space, that dopamine hit one usually gets when it registers that they looking at the brand's iconic red, wood, and blue branding will hit you and your kid tenfold.
Shelves filled with toys, arts and crafts kits, costumes, books, and puzzles representing a wide range of M&D products line the perimeter of the store. You'll of course find plenty of their bestsellers, like their tabletop Scoop and Serve Ice Cream Counter ice cream stand and Water Wow! painting pads. One sweet and unexpected feature is an adorable print on the back wall kids can stand in front of to see "how many scoops of ice cream" tall they are. Throughout the floor plan, select products are displayed in such a way that children can interact with them: out of their packaging and on eye-level surfaces.
And because M&D is simultaneously celebrating their 35th birthday, they've decided to give their classic (and very popular) 4-and-a-half-foot-tall plush giraffe a colorful update. The special edition Rainbow Giraffe will be in stock at the store or can be purchased online.
If you're not in the New York area, you won't be able to experience the store in all it's charming glory in person (and there's always online shopping for that). But if you are, you now have the perfect place to dash into whenever you're in the market for a baby gift or a simple, quality toy you know your kid will play with ad nauseam.