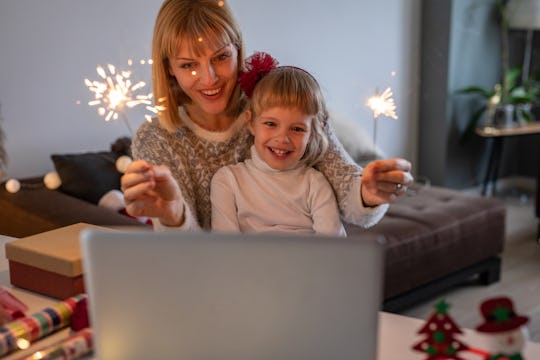 Riska/E+/Getty Images
How To Have A Zoom NYE Party
Because we're all just surviving and want to scream 2020 into the void... together.
Screw 2020 and the apocalypse horseman who rode it in. Let's kick its butt to the curb in the style fitting the occasion — separately, in our own homes, while drinking from whatever glass is handy. While the idea of a perfect Zoom New Year's Eve bash might sound like an oxymoron, I swear, you might never go back to fancy parties with way too high Uber fees.
First things first: if you make the Zoom link, you're the host of this shindig, and therefore, it's on you. The theme, the time, the dress code, whatever. I don't make the rules, that's just how it is. It seems like a pain, but really, it will be a lot of fun if you make it that way. Also this year, we're not buying respiratory droplet spray cones, aka those little blow-horns with streamers and noise. In fact, we are never buying those again. They are dead. Even in our own homes, blowing our spit everywhere no longer seems like a great idea. But you can still toss confetti, you can still listen to Ryan Seacrest countdown a ball drop, and you can still time Forrest Gump so that "Happy New Year, Lieutenant Dan" is the first thing you hear at 12 a.m. And you can have a great Zoom party.