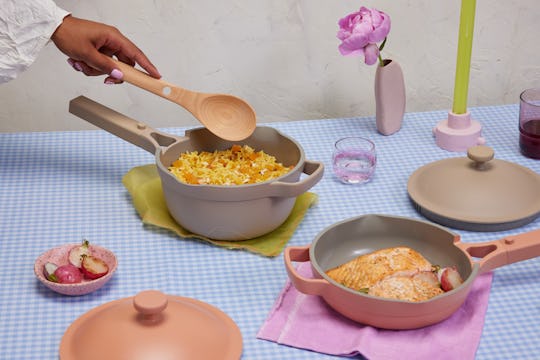 Courtesy Of Our Place
Our Place Just Dropped A New Collection That's Perfect For Families & Small Spaces
We only recommend products we love and that we think you will, too. We may receive a portion of sales from products purchased from this article, which was written by our Branded team.
If there's anything out there that promises to make life living in a small space easier, chances are I'll buy it — especially if the item in question looks even remotely aesthetically pleasing. (Why are apartment friendly products always so utilitarian?) So, when I had the chance to try out Our Place's two latest releases — the Mini Always Pan and Mini Perfect Pot — I was all over it.
For those of you new to Our Place and their viral kitchen products, Our Place is a cookware company that believes in the power of togetherness and sharing meals. Their products are geared towards home cooks, and aim to make cooking easier as opposed to intimidating.
As a huge fan of their original Always Pan (it's a beautiful kitchen multitasker!), I was super excited about their newest offerings that promise to take up even less space than their tried-and-true counterparts. For this city mom who doesn't have the space for anything too clunky, it sounded like the perfect fit.
Wondering how they measured up in my apartment? Scroll on for all the details.
The Mini Always Pan
Full disclosure: I'm no chef. I'm more of a short-order cook, but I definitely put my kitchen basics to good use most days. So the concept of a smaller version of the Always Pan and the Perfect Pot sounded, pardon my pun, perfect.
Since I already had (and love) the Always Pan and the accessories that come with it, I was familiar with how great it is. But while it's famously designed to take the place of eight traditional pieces of cookware (such as your fry pan, sauté pan, steamer, and skillet), the product itself is still a little large for the kitchen in my city apartment.
Blessedly, the new Mini Always Pan is petitely sized to fit in compact spaces like studios and even dorm rooms, while still serving all your frying, simmering, and sautéing needs. It comes with a solid wooden spoon and built-in spoon rest (goodbye, messy counter!), plus it wipes clean really easily and weighs less than the full-size version — a major benefit when you're juggling mom duties with one arm and trying to cook dinner with the other!
The Mini Perfect Pot
My child would live off of macaroni and cheese if I let her and, truth be told, sometimes I do. So finally finding a pot that would let me boil the right amount of water and cook only half the box of macaroni is a game changer in terms of storage and lessening our food waste. The Mini Perfect Pot is perfectly pint-sized and great if you're cooking for two or three people. (Think: soups, sauces, pastas, and more for you and your partner once you put the little one to bed.)
Plus, it also comes with a wooden spoon — and that clutch spoon rest! — that is perfect for stirring, and is free of any harmful plastics or phthalates.
Yup, just like the full-size versions of the Always Pan and Always Pot, these smaller iterations are also made with Our Place's exclusive non-toxic, nonstick ceramic coating. I'm pretty conscious about what I bring into my home and use for my family, so this is one of the brand's biggest draws, IMO. After one-too-many late night scrolling sessions down an internet rabbit hole, I was shocked to learn about the harmful chemicals like lead, PFOAs, and PTFEs that are commonly found in cookware. (Seriously — Google it! It's pretty scary.) So, I love that there are no potentially harmful materials used in the manufacturing of Our Place items. It's really a win/win!
The Bottom Line
The Mini Always Pan and Perfect Pot are such welcome additions to my compact kitchen, and are ideal for whipping up smaller portions. Have more space? Then they also make great pairings to their larger counterparts. They'd definitely come in handy if you're hosting a holiday or dinner party and can help you multitask and cook multiple dishes at once!
And, as an added bonus, my daughter says the Mini Always Pan makes the best grilled cheeses ever. So thanks for the #MomWin!