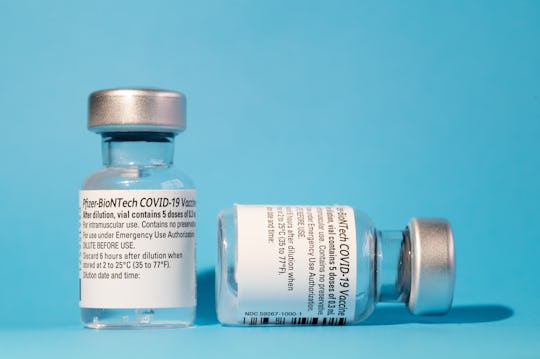 Marcos del Mazo/LightRocket/Getty Images
The FDA Has Authorized The Pfizer Vaccine For Kids As Young As 12
Pfizer and BioNTech are expanding access to their COVID vaccine just in time for summer.
Weeks after requesting health officials make the call, the federal Food and Drug Administration (FDA) has officially given the emergency use authorization for Pfizer's COVID-19 vaccine in kids 12 and up.
"The FDA's expansion of the emergency use authorization for the Pfizer-BioNTech COVID-19 Vaccine to include adolescents 12 through 15 years of age is a significant step in the fight against the COVID-19 pandemic," Janet Woodcock, M.D., acting FDA commissioner, said in a statement Monday. "Today's action allows for a younger population to be protected from COVID-19, bringing us closer to returning to a sense of normalcy and to ending the pandemic. Parents and guardians can rest assured that the agency undertook a rigorous and thorough review of all available data, as we have with all of our COVID-19 vaccine emergency use authorizations."
On April 9, Pfizer Inc. and BioNTech SE, the two companies behind the Pfizer-BioNTech COVID Vaccine, had asked the FDA to amend their emergency use authorization. Previously, the Pfizer-BioNTech vaccine has been approved only for use in individuals 16 and older. However, data from a Phase 3 trial conducted in adolescents aged 12 to 15 years old found the vaccine demonstrated a 100% efficacy and robust antibody response with side effects similar to those being seen in older adolescents and adults.
But although the FDA has extended authorization for the vaccine, the U.S. Centers for Disease Control and Prevention (CDC) still needs to review clinical trial data and issue recommendations for adolescents. According to NBC News, the CDC's Advisory Committee on Immunization Practices is expected to meet Wednesday to discuss.
In April, Pfizer and BioNTech revealed they planned to follow up their request to the FDA with similar requests to regulatory authorities in other areas of the world, such as the European Medicines Agency (EMA) which oversees vaccine approval in the European Union. "These submissions represent a critical step in Pfizer's and BioNTech's ongoing efforts to support governments in broadening global vaccination efforts," the companies said in a joint statement. "The companies look forward to working closely with the U.S. Food and Drug Administration (FDA) and other worldwide regulatory authorities as part of the companies' efforts to expand emergency or conditional authorization of their COVID-19 vaccine in 12- to 15-year-olds as quickly as possible."
In March, Pfizer revealed its vaccine had demonstrated 100% efficacy in a Phase 3 clinical trial involving 2,260 adolescents aged 12 to 15 with not one vaccinated child contracting the virus. In fact, vaccinated children 12 to 15 years old were found to have produced robust antibody responses that exceeded what the vaccine maker had recorded in individuals between the ages of 16 to 25.
Additionally, trial participants were also found to have tolerated the vaccine well with reported side effects — namely pain, fever, chills, and fatigue — remaining consistent with those previously displayed in trials involving individuals 16 to 25 years of age.
"The initial results we have seen in the adolescent studies suggest that children are particularly well protected by vaccination, which is very encouraging given the trends we have seen in recent weeks regarding the spread of the B.1.1.7 UK variant," BioNTech CEO and cofounder Ugur Sahin said in a statement released alongside trial results in March. "It is very important to enable them to get back to everyday school life and to meet friends and family while protecting them and their loved ones."
Pfizer, Moderna, and Johnson & Johnson are all currently testing their respective COVID vaccines in infants and children younger than 12, potentially opening the door for kids as young as six months to eventually receive vaccinations against coronavirus.
According to the CDC, nearly 40% of the population has received at least one dose of a COVID vaccine while 21.9% are considered "fully vaccinated." Approving the Pfizer-BioNTech COVID vaccine for use in younger adolescents, however, could help speed up national and international efforts to reach herd immunity.
If you think you're showing symptoms of coronavirus, which include fever, shortness of breath, and cough, call your doctor before going to get tested. If you're anxious about the virus's spread in your community, visit the CDC for up-to-date information and resources, or seek out mental health support. You can find all of Romper's parents + coronavirus coverage here.
This article was originally published on