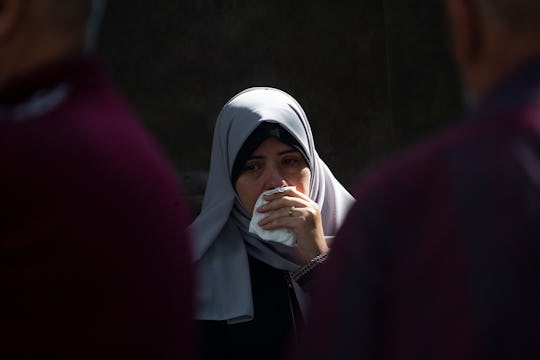 Ahmad Hasaballah/Getty Images News/Getty Images
Pregnant Women In Gaza Are Having C-Sections Without Anesthesia
Health care workers paint a harrowing portrait of birth and motherhood in Palestine.
More than 10,000 have been killed in the nearly month-long conflict between Israel and Hamas and tens of thousands more have been injured. But even amid so much death, life goes on. With approximately 50,000 pregnant women in Gaza, CARE International estimates that approximately 160 will be born every day in Gaza in the next month. Sadly, many of these new parents will have to deliver under extreme and dangerous circumstances. The organization says they have received reports from on-the-ground medical personnel that Palestinian women have had to undergo emergency cesarean sections without anesthesia.
"I can only imagine how afraid these women are, for themselves and their babies, all while suffering in unbearable pain," said Hiba Tibi, CARE's West Bank and Gaza country director.
Anesthesia isn't the only type of drug in short supply. NPR reports that antibiotics and water are running low, leaving patients susceptible to infection during and after surgery. The United Nations Office for the Coordination of Humanitarian Affairs (OCHA) notes that since the beginning of the conflict, a third of Gazan hospitals and two-thirds of primarily health care facilities have shut down, leaving the remaining facilities overwhelmed and under-supplied. Crumbling infrastructure in Gaza even extends to power supplies, leaving hospitals reliant on generators and the fuel to run them, and it's not always enough to keep all the power going. Some surgeries, NPR notes, have been performed by the light of cellphones.
"[Pregnant Palestinians] are facing an untenable choice," Laila Baker, the United Nations Population Fund's Arab states regional director told Al Jazeera, "risk whatever delivery comes in the place where they reside and risk bombardment or try to make it to one of the reasonably functioning health facilities where it is overcrowded, unhygienic, and where if they required a c-section, the anecdotal evidence coming in right now has been that many of those have been without an anesthesia and where women have to walk home."
Since the conflict between Israel and Hamas began on Oct. 7, the devastation in the region has been overwhelming. More than 1,400 on the Israeli side have been killed in the conflict, including children. This grim statistic, which mainly comes from Hamas' initial attack, marks the deadliest attack by Palestinian militants since 1948. Among Palestinians, more than 9,000 have been killed in Israeli airstrikes, including nearly 4,000 children, and more than 32,000 have been injured. Around the world, Jews and Muslims alike have endured increased violence, harassment, and even death.