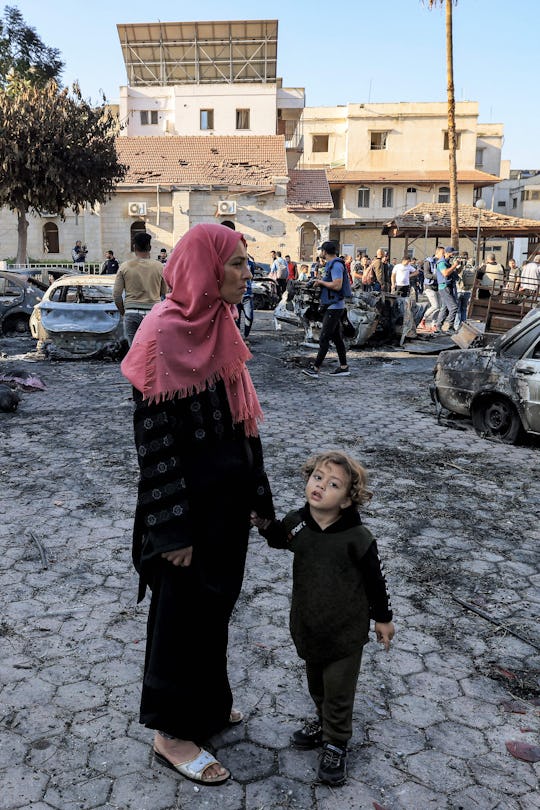 -/AFP/Getty Images
Tens Of Thousands Of Pregnant Women Among Those At Risk In Gaza, Says WHO
The organization says it has been unable to get aid and supplies through the border crossing in Rafah.
As the humanitarian crisis in Gaza becomes more dire, the World Health Organization (WHO) says it has been unable to deliver vital aid and supplies to Palestinians, including up to 84,000 pregnant women. WHO told CNN that while they have enough supplies to provide "the basic essential needs" for 300,000 people, Israeli bombing has rendered the Rafa border crossing, where WHO stands at the ready on the Egyptian side, unsafe.
"It's a terrifying, really distressing waiting game, with all of us only wanting to help," WHO spokesperson Margaret Harris told CNN's John Vause on Tuesday.
While the United Nations (UN) puts the number of pregnant women in the region lower — 50,000 in Gaza with an additional 73,000 in the West Bank — the situation remains dire, made all the more pressing as many hospitals in Gaza have been attacked or made inaccessible amid fighting between Israel and Hamas, which is believed to be holding nearly 200 Israeli hostages, including civilians and children.
On Oct. 17, the Al Ahli Arab Hospital was the latest of more than 40 hospitals that have been attacked since this conflict began on Oct. 7, according to WHO. While neither Israel nor Hamas claim responsibility for the attack, each blaming the other, WHO condemned the action without naming specific political actors. The hospital is located in the north of the Gaza Strip and is one of more than 20 facing evacuation orders from the Israeli military. WHO described these orders as "tantamount to death sentence" in a statement on Oct. 14 and called for their reversal.
"The lives of many critically ill and fragile patients hang in the balance," WHO wrote, "those in intensive care or who rely on life support; patients undergoing hemodialysis; newborns in incubators; women with complications of pregnancy, and others all face imminent deterioration of their condition or death if they are forced to move and are cut off from life-saving medical attention while being evacuated."
As the conflict continues, babies continue to be born — 160 a day in Gaza, according to the United Nations Population Fund (UNFPA) — and their mothers face potentially life-threatening conditions bringing them into a dangerous world.
"Babies don't care about bombs," Harris told CNN, "they come when they come."