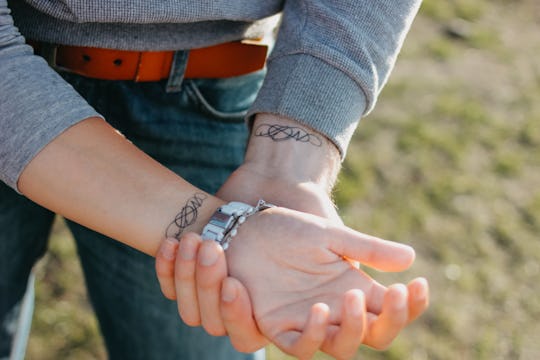 Shutterstock
The 26 Best Subtle Couple's Tattoos You Won't Regret Getting
Tattoos are a powerful, beautiful way to honor just about anything in life, so of course romantic relationships are expressed in ink all the time. If you would like a lasting reminder of your own love story, consider these minimalist tattoos for couples. They can be sweet, funny, or sentimental ways to commemorate your relationship.
Before getting a piece about your partner, however, there's one bit of tattoo culture that's important to know: In general, getting a tattoo of your partner's name can be a divisive decision, tattoo artists warn (some even think it to be bad luck for the relationship!). You're welcome to put any image on your body, of course, but just be aware of this connotation in the tattoo community.
With that said, there are unlimited ways to get a couple's tattoo that don't involve anybody's name. Just think about everything else in your relationship. Shared interests, a favorite travel destination, and even beloved pets are just a few of the best tattoo ideas for couples.
This article was originally published on