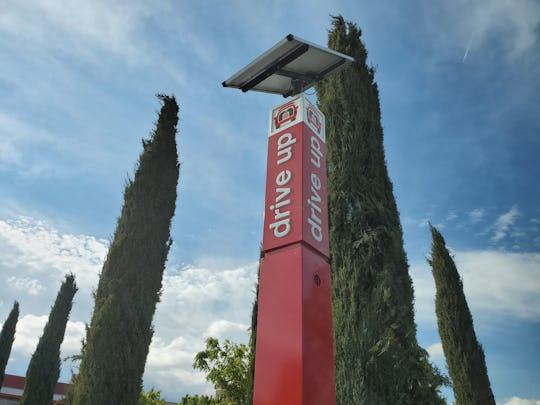 Smith Collection/Gado/Archive Photos/Getty Images
Some Toys Aren't Available For Target's Drive-Up Option
It looks like the super popular, low-stock toys are only available if you just go in the store to shop.
Can we all just take a minute to thank the ingenious person who came up with curbside pickup? Short of delivery to your doorstep, there's nothing easier (and these days, safer) than driving to the store and picking up your already purchased items right there in the lot. But when it comes to playing Santa for the little ones in your life this holiday season, are toys included in Target curbside pick-up?
Honestly, I don't know anyone who wants to go shopping for gifts with crowds of people right now. And because going to Target is a magical experience for so many, the store is always crawling with happy shoppers (I'm often one of them). Unfortunately, the COVID-19 pandemic has put a damper on the in-person shopping habits of many Americans, and retailers have had to quickly come up with new, safe ways to meet demand. And while curbside pick-up already existed before social distancing and mask-wearing became the norm, its popularity has gone through the roof to the tune of 208%, according to CNBC.
Well, in a year full of bad news, here's a little good news for you: yes, you can purchase toys from Target and pick them up curbside. While it's always worth calling your local Target to confirm in case something isn't clear to you on their website, Santa should be able to safely shop this holiday season.
But you may notice on certain items online, the "pick-up in store" option isn't available. Through some digging, I've found that it depends on how popular the item is, and how many are in stock. For example, a super popular toy is the Barbie Dreamhouse. When I check this in local stores, any store that has a "limited stock" will not allow me to choose pick-up or even same day delivery.
Then there are some items that are only available through curbside or order pick-up, like the new Xbox Series X.
You can also check your Target app for items available on curbside order. If you order through the website, you'll have to just choose store pick-up and head into customer service to actually grab the items yourself. If you want a full curbside experience, you'll need to use the app to order.
So if there's a super popular item you want, it might be best just to check your local store to see if it's in stock and then just head there yourself to grab one. Make sure you mask up! And if the item you want isn't in stock or available through curbside pick-up, you can try Target's new "Find the Perfect Toy" tool which suggests toys based on the child's gender (female, male, gender neutral), age, price range and interests. As if there weren't enough reasons to love Target already. Happy shopping (and picking up).