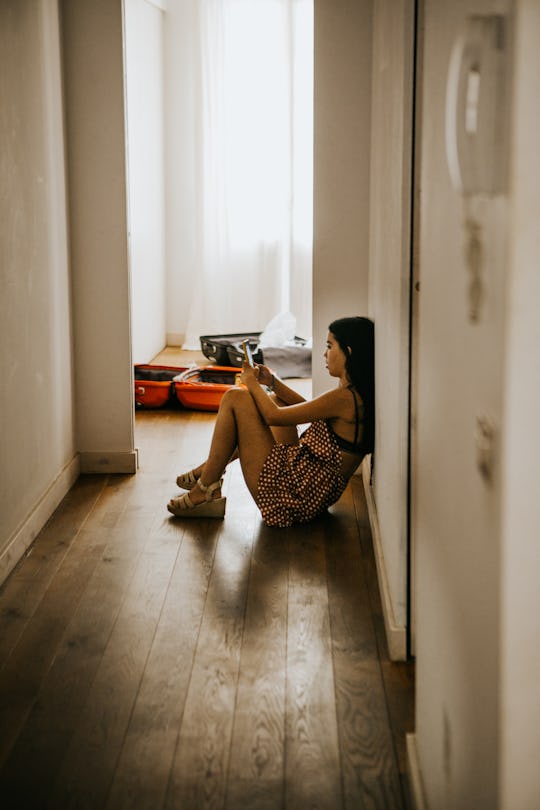 Carol Yepes/Getty
Teen Girls Are Sadder Than Ever, But Schools Can Make "A Profound Difference"
"Young people are experiencing a level of distress that calls on us to act with urgency and compassion."
Content Warning: This article contains mentions of suicide and sexual violence.
High school can be a divisive subject for kids or even adults who have been through it. For some, it's a carefree time of friends, fun, and (safe) independence. For others, it's a time marked by confusion, alienation, and emotional distress. On Monday, the Centers for Disease Control and Prevention (CDC) released the results from its 2021 Youth Risk Behavior Survey — a 10 year snapshot of health behaviors and experiences among high school students — and the results, especially for girls, are troubling, finding that girls are experiencing record levels of sadness.
During the period of 2011 to 2021, the CDC collected data every two years among a nationally representative sample of U.S. high school students (more than 17,000 in total), asking about sexual behaviors, substance use, suicidal thoughts and behaviors, and experiences such as violence and poor mental health. They also established social determinants of health, such as unstable housing and support systems present in school and at home.
Some of the findings were actually quite positive: overall, some risky sexual behaviors, drug use, and the proportion of students experiencing bullying in school went down. Unfortunately, that appears to be where the good news stops: almost all other indicators, including protective sexual behaviors like condom use, experiences of violence, and suicidal thoughts and behaviors all took significant turns for the worse. Mental health also appears to have significantly worsened across the board. In 2021, almost 60% of female students experienced persistent feelings of sadness or hopelessness during the past year (up 60% from the 2011 report) and nearly 25% made a suicide plan.
Other factors may give hints about some of this trauma: the report also found that almost 20% of female students experienced sexual violence in the past year and 14% had been raped at some point in their lives.
Persistent feelings of hopelessness and sadness were also markedly higher for students who identified as LGBTQ+, with a staggering 69% of children reporting such feelings in the past year. They were also more likely than their straight peers to seriously consider or attempt suicide.
"High school should be a time for trailblazing, not trauma," Debra Houry, M.D., M.P.H., the CDC's Chief Medical Officer and Deputy Director for Program and Science, said in a statement. "These data show our kids need far more support to cope, hope, and thrive."
The American Academy of Pediatrics (AAP) recommends parents to encourage children to share their feelings by listening without judgment and seeking help from a pediatrician when they're concerned. Additional support can take many forms, including educating yourself and other caregivers on depression; educating your child on depression; focusing on your child's strengths and providing verbal encouragement; helping your child relax, get creative, and/or get active; and, when helpful, limiting social media, particularly when it's replacing or interfering with face-to-face interactions.
The report also suggests that schools can play a role in helping teens. While the problem is daunting, increased school-based connectedness, including access to school activities and services "can make a profound difference in the lives of teens with a relatively small infusion of support to schools."
"Safe and trusted adults — like mentors, trained teachers, and staff — can help foster school connectedness, so that teens know the people around them care about them, their well-being, and their success," the report reads. "Schools can provide education that equips teens with essential skills, such as understanding and ensuring true sexual consent, managing emotions, and asking for what they need."
"Young people are experiencing a level of distress that calls on us to act with urgency and compassion," said CDC Division of Adolescent and School Health Director Kathleen Ethier, Ph.D. in a statement. "With the right programs and services in place, schools have the unique ability to help our youth flourish."
If you or someone you know is experiencing suicidal thoughts, call or text 988 to contact the 988 Suicide & Crisis Lifeline, which provides free 24/7 support. You can also reach out to the Trans Lifeline at 1-877-565-8860, the Trevor Lifeline at 1-866-488-7386, or to your local suicide crisis center.
If you or someone you know is seeking help for mental health concerns, visit the National Alliance on Mental Illness (NAMI) website, or call 1-800-950-NAMI (6264). For confidential treatment referrals, visit the Substance Abuse and Mental Health Services Administration (SAMHSA) website, or call the National Helpline at 1-800-662-HELP (4357). In an emergency, contact the 988 Suicide & Crisis Lifeline by calling or texting 988, or call 911.