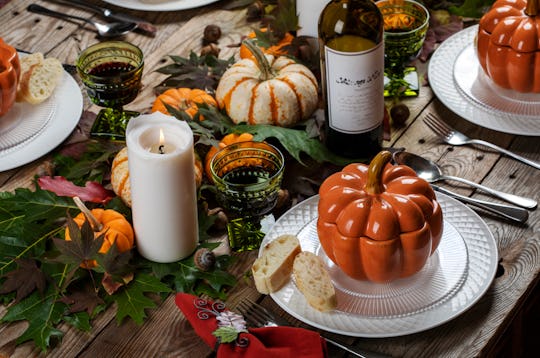 Anjelika Gretskaia/Moment/Getty Images
12 Ideas For Gorgeous Thanksgiving Place Settings
Set a festive Thanksgiving table with creative touches that are easy to pull off.
What could make a Thanksgiving table any more inviting than a big golden turkey, overflowing bowls of macaroni and cheese, spouts of gravy and tart cranberry jewels? How about creative Thanksgiving place settings accented with autumnal touches? From natural accents like gourds, pumpkins and branches, to colorful stem and silverware, these ideas are rich in visual impact, and cost little time or money to put together.
The first thing you can think about when planning a Thanksgiving tablescape is how much room you actually have at the table. So lay out your placemats and chairs, and set out your empty serving trays a few days before Thanksgiving so you can see how much space you have for decorations. Then think about a color scheme. You can play off of the color of your walls, your dishes, or the food; you can choose to go with a monochromatic look or mix-and-match tones that have the same vibe. From there, you can start to incorporate your dishes, cutlery and decorations. These ideas are meant to inspire your creativity, and spark a tablescape and design all your own.