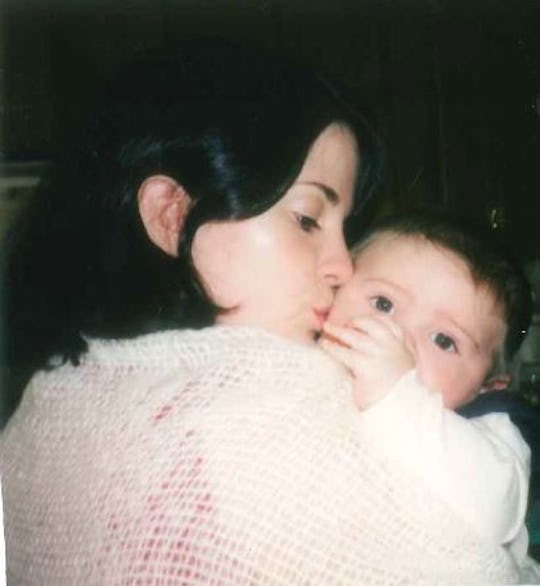 Photo courtesy of Madeleine Deliee
The Velour Pants That Saved Me Postpartum
Before I had my son, my wardrobe included items like a floor-length canary yellow skirt with hot pink and turquoise flowers embroidered on it and a pair of black cotton skinny pants that zipped on the side and bore a super-cool print of Chinese dragons. Dressy stuff. Stuff you might wear as a backup dancer in a Katy Perry concert. I liked expressing myself through my clothes. Maternity wear brought that to a shrieking halt; I still have "can you hear the lambs, Clarice"-style flashbacks about the raspberry pink chiffon tent that I had to wear to my husband's cousin's wedding at the start of my third trimester. But I consoled myself that it would all be over soon: I'd have the baby and then I could dress like myself again.
Ha, I say. Ha.
Instead, I found myself still in the loose shirts and baggy pants that were left over from pregnancy — no wonder people continued to ask me when the baby was due for months after he'd arrived. I know now that my overloaded state was standard-issue "sleep-deprived new mom." But at the time, all I knew was that I usually smelled a little funny and my c-section scar still hurt. Why hadn't anyone told me about that?
The pages of the calendar flipped past and before I knew it, the holidays were upon us. That meant that people — namely, my in-laws, who hosted the holiday dinner — were going to expect me to dress like a human being. I have a remarkable knack for never gauging the level of formality that others will employ: if I wear a dress, everyone will be casual; if I wear jeans, everyone will be dressed up. It's sort of my superpower. Layering the anxiety of post-baby dressing on top of this introduced a new, previously unknown level of fashion frustration: I would never wear normal clothes again and I would look like a mess in front of my husband's family (who would, of course, love me anyway. But still.). The crying started and just didn't stop.
The tears were rolling again when, just before the highway, I spotted it: Old Navy.
I tried to force it out of my mind. If I didn't think about it, I wouldn't have to admit that the black summer-weight pajama pants I'd been wearing on near-constant rotation were about my only option. I wouldn't have to consider how anything with a waistband hurt my still-raw incision site. And, finally, I wouldn't have to calculate that we were living below poverty level and that the wiggle room in our budget for any extras — including clothes — was next to nothing.
I ignored all of it until the day before and we were headed out for the event. I tried the black pants every way I could—none of them were appreciably better. They still looked like raggedy, too-thin cotton pants; I was trying with the end-of-pregnancy top and a sweater thrown on over it, but the effect was still far from glam. My husband lovingly propelled me toward the car and drove away before I could assume the fetal position.
Standing there, surrounded by the orphaned bikini pieces and jeans with broken zippers, I was thankful because these pants gave me hope.
The tears were rolling again when, just before the highway, I spotted it in a heaving strip mall: Old Navy. Somehow, I had faith that within that outpost of cheaper-than-Gap style, I could find redemption. Determined, I headed straight to the clearance rack. It was my last, best, and only shot for finding a garment that would magically make me both stylish and appropriate — for under $15. I knew it was a lot to ask, but I was holding out for a miracle: Help me, Old Navy. You're my only hope.
And then there they were: chocolate-brown velour lounge pants. The color made them look sort of fancy and the stretchy, soft waistband made them easy on my scar. Of course, they'd been cool and trendy a few years before — I mean, they were on the clearance rack at Old Navy. I didn't care. I loved them. Standing there, surrounded by the orphaned bikini pieces and jeans with broken zippers, I was thankful because these pants gave me hope. I went in a store and found something that fit without a belly panel.
It's quite possible that, before kids, you dallied in Juicy Couture, or a knockoff version thereof. Seeing gangs of velour-butted teens strolling through malls takes me back to the old days, but did you know Juicy actually started as Travis Jeans, a maternity-pant label? It came of age in 1995, and found fame in 2001 when a custom-designed suit for Madonna put velour dreams in all our heads. In other words, is there a bigger sign that these pants and my postpartum soul were meant to be?
I changed into them, and ran my hands down the velour — velvet but with serious give — and it felt like season 1 of The Simple Life. It felt like walking through an airport with a U-shaped pillow around your neck, it felt like those days when we all put on velour pants in the interests of high fashion like we were going somewhere.
Suddenly, I could envision a day when my body would be healed, when I would recognize myself again and be able to redefine who I was: a woman with style and a kid. I felt like that person was possible.
I'm sure I still looked like a frazzled and sleep-deprived new mom. But I saw a future beyond the moment for under $15, and that meant everything.