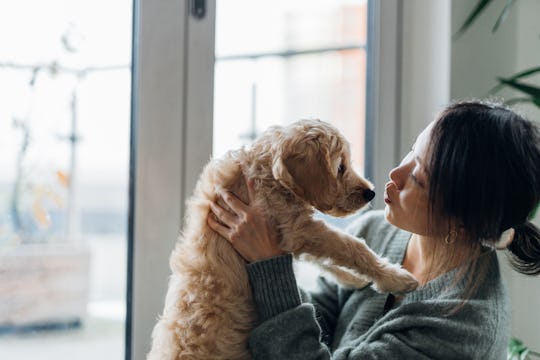 Oscar Wong/Moment/Getty Images
The Reasons Why Your Dog Might Be Acting Extra Cuddly Are Honestly So Cute
From the "Oh my God you're finally home" tail wagging to the way that they sweetly rest their head on your lap, you have to admit that dogs rank right at the top of pet perfection. They're playful, funny... is it any wonder that you love your fur baby (almost) as much as your kiddos? And if snuggling with your sweetie (and by that, we mean your pooch, not your partner) has been happening more frequently lately, here are the reasons why your dog might be acting extra cuddly.
Getting cuddles from your canine is undeniably one of the biggest perks of having a pet. But their butt shaking and barking are just a couple of ways in which they show their love and affection. "Most pet parents love when their pets give them more cuddles and furry snuggles, but if this is a new behavior, could there be something else doing on?" Dr. Katie Woodley, BVSc, cVMA, GDVCHM, a holistic veterinarian, asks Romper in an email. "Anytime a new behavior develops, it's important as a pet parent to assess if something changed."
So if you feel like your fur baby might be trying to tell you something with their cuddles, here's how to decipher your dog's love language.
Experts:
Dr. Katie Woodley, BVSc, cVMA, GDVCHM, a holistic veterinarian
Paula Stewart, an animal behaviorist
Danielle Mühlenberg, a dog behaviorist
Kate LaSala, CTC, CBCC-KA, PCBC-A, CSAT, a certified, professional dog trainer and behavior consultant
Dr. Sarah Wooten, DVM, CVJ, a veterinarian
Dr Joanna Woodnutt, MRCVS, a veterinarian
This article was originally published on