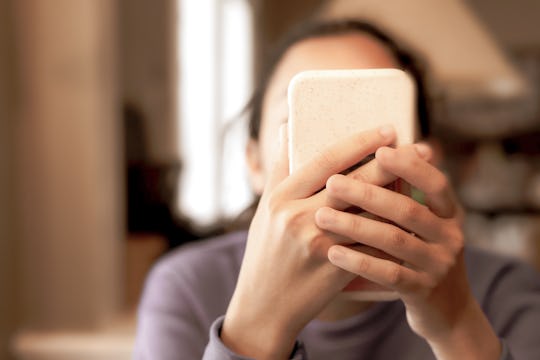 Catherine McQueen/Moment/Getty Images
TikTok To Set Automatic Screen Limit For Teens... Kind Of
"Research also shows that being more aware of how we spend our time can help us be more intentional about the decisions we make."
How many times have you found yourself mindlessly scrolling TikTok and, before you know it, an hour has passed? And if it happens to adults, you can bet it's happening to kids. But in an effort to promote "digital well-being," the platform has announced they will begin unrolling an automatic 60-minute screen limit for all accounts belonging to users below the age of 18. But the system isn't exactly foolproof.
"We believe digital experiences should bring joy and play a positive role in how people express themselves, discover ideas, and connect," Cormac Keenan, TikTok's Head of Trust and Safety, wrote in a statement on the company's website.
TikTok consulted with experts from the Digital Wellness Lab at Boston Children's Hospital in deciding on a 60-minute limit, though no "ideal" amount of screen time has yet been established. Teens will also get a weekly inbox notification with a recap of just how much time they spent on TikTok. The move augments TikTok's "Family Pairing," which was unveiled in 2020 as a way to help caregivers and teens to customize safety settings based on individual need. New features to Family Pairing have been announced in conjunction with these 60-minute screen limits, including customizing a child's daily limit (which can be altered depending on the date or day of the week) and a screen time dashboard, which will provide a summary on a child's screen use. And lest parents and caregivers feel like hypocrites, TikTok also announced that it will soon be offering self-imposed (also bypassable) screen time limits and sleep reminders for all users to gently remind them when it's time to log off.
There's a catch.
Upon receiving a prompt letting them know they've been on the platform for 60 minutes, users 13 to 18 can simply enter a passcode and keep watching, effectively ignoring the limit. Users under the age of 13 will have a somewhat harder time getting around the limit as parents will have to set a passcode to enable an additional 30 minutes on the platform. But in either case, the limit is less a hard rule than a friendly reminder. Still, the company believes making an active choice to continue to watch can make a difference in teens' digital habits. "Research also shows that being more aware of how we spend our time can help us be more intentional about the decisions we make," Keenan writes.
While social media use among teens has been a hotly debated subject since the advent of social media, in more recent years, some in the medical field and the tech industry have come to see it as a public health emergency. In 2022, former Facebook employee Frances Haugen disclosed internal documents to Congress and the SEC about how the tech company's business decisions knowingly negatively impact kids' mental health. "This is not a problem with your child. This is a problem with product design," she told Romper last year.
This past January, U.S. Surgeon General Vivek Murthy told CNN's Newsroom "I, personally, based on the data I've seen, believe that 13 is too early [to be on social media]. It's a time where it's really important for us to be thoughtful about what's going into how they think about their own self-worth and their relationships and the skewed and often distorted environment of social media often does a disservice to many of those children."
This latest move by TikTok is seen by some as a preemptive measure as social media companies face new scrutiny and regulation from lawmakers, who have already banned TikTok from government devices.