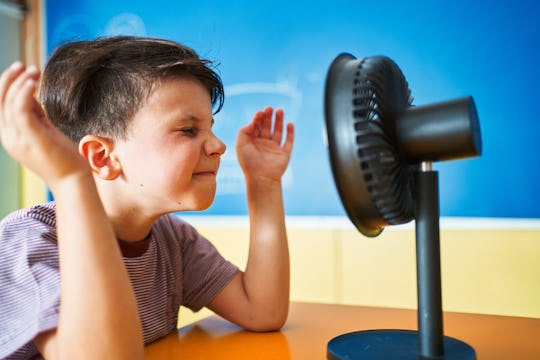 Daniel Lozano Gonzalez/Moment/Getty Images
Rising Temperatures Threaten Safety & Disrupt Learning. What Are We Going To Do About It?
Too hot for teacher — and also kids, staff, learning, and the planet in general.
Labor Day has long been the unofficial harbinger of autumn. While it's sad to see summer go, folks comfort themselves by turning to the coziness of sweater weather, fall foliage, and of course, piping hot pumpkin spice lattes. But all that hygge is hard to stomach when you're sweltering in a stifling, nation-wide heatwave. Throughout much of the country, about 85 million Americans are under heat advisory. The weather is so severe, in fact, that even though the school-year has barely begun for many students, NBC News reports that many schools have responded to the record-breaking heat by keeping kids out of the classroom either via virtual learning, early dismissal, or cancellation.
Major school districts like Philadelphia, Detroit, and New York, as well as small towns throughout the region are cutting hours to get students and staff off school property before the heat of mid-day. Of course, this is not only detrimental to students' education, but leaves many caregivers struggling to figure out childcare.
"It's very inconvenient because at work I have to leave a little early to pick them up," an Allentown, Pennslyvania mother told local news outlet WFMZ, noting that leaving work early takes a toll on her paycheck.
But soaring temperatures outside often mean even higher temps in the classroom. According to a 2020 report by the United States Government Accountability Office, 41% of public school districts need to replace or update their HVAC systems. Many schools, especially in regions not used to dealing with such sweltering September to May temps, don't have air conditioning at all.
In addition to being uncomfortable, extreme weather takes a quantifiable toll on learning. A 2020 study published in the journal Nature Human Behaviour noted a significant decrease in test scores among students forced to work in temperatures 80 degrees and higher. Moreover, such heat can be physically dangerous for students and staff alike — causing heat cramps, heat exhaustion, heatstroke, and hyperthermia according to the World Health Organization — especially for young children and the elderly — and can lead to illness, hospitalization, or even death. Add to this risk a nationwide school nurse shortage and heat in schools (to say nothing of on school buses) can become dangerous indeed.
In fact, the heat has already claimed the life of at least one child this school year. Yashua "YaYa" Robinson, a 12-year-old boy in Lake Elsinore, California, died on August 29 after being told by his gym teacher to run in triple-digit heat. "He was reaching out to the teacher, saying he needed some water. He said he couldn't breathe. He was telling the kids this," Amarna Plummer, Robinson's aunt, told NBC Los Angeles. She went on to explain that the child was not appropriately dressed for gym class and, seemingly as punishment, was made to run. In a cruel twist of irony, Plummer says that Robinson's mother, who is also a physical education teacher in the district, had warned administrators not to let children go out for P.E. due to the heat.
This is not something older generations "just dealt with" back in the day: temperatures are higher than they've ever been. Summer 2023 was the hottest on record and since 2013, each summer has been hotter than the year before according to NASA, which doesn't bode well for schools moving forward. So instead of just being annoyed at the disruption to our schedule, let's take out frustration to school boards and legislators to get HVAC systems updated. And make combatting climate change a parental rights issue.