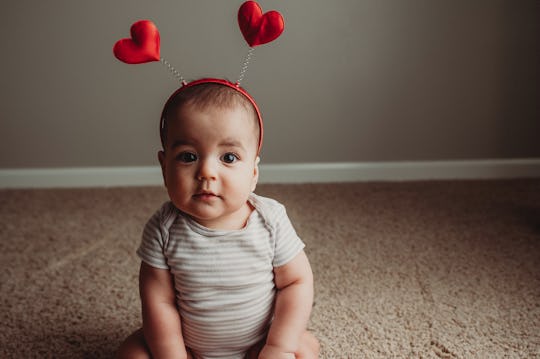 Jill Lehmann Photography/Moment/Getty Images
16 Sweet Valentine's Day Gifts For Babies, That Are Practical Too
Any excuse to take a cute pic, right?
As you stock up on chocolate, flowers, and treats for Valentine's Day, don't forget to include a present or two for your littlest love. While they may not be able to indulge in the finer holiday treats, there are still plenty of Valentine's Day gifts for babies that are just as special. Plus, how many babies do you know that would appreciate a bouquet of red roses at their age?
Valentine's Day is all about reminding the people closest to you how much you love them. Chances are high that the baby in your life already feels plenty loved thanks to lots of snuggles at all hours of the day and night, but a little extra love certainly never hurts. Gifts for babies can be a little difficult to shop for, though, so instead of trying to find the perfect toy, focus your search on all things Valentine's Day themed.
Since Feb. 14 is synonymous with hearts, flowers, and love, look for baby gifts that encompass that spirit one way or another. Find a onesie that will help the baby profess its love to its mom or gift a little headband with a flowery bow. Here are some great ideas to help you get started on your baby gift search.
There are all kinds of adorable things you can get for your favorite baby this Valentine's Day. Between clothes, toys, and accessories there are a lot of ways to help them celebrate how loved they are.