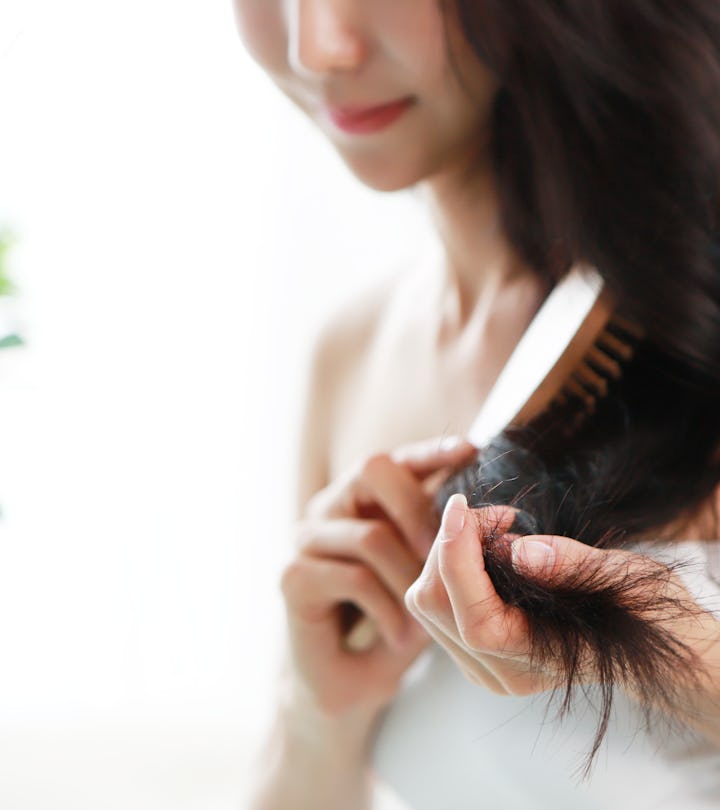 RUNSTUDIO/DigitalVision/Getty Images
How Much Hair Loss Is Normal? 9 Signs You're Losing Too Much Hair
A little shedding is normal, a lot is not.
At some point, most adults have probably looked down at the bathroom or shower floor after getting ready for the day and noticed the amount of hair everywhere. Shedding hair is common, but how much hair loss is normal? If you're concerned by the amount you're shedding, there are ways to tell if you're losing too much hair. All it takes is a little focused attention, and in some cases, a call to a medical professional to determine whether the excessive hair loss is due to a medical condition, the natural progression of aging, or the normal postpartum hair loss that comes after childbirth.
How much hair loss is normal?
"We naturally shed and regrow hair in regular cycles," board-certified dermatologist Dr. Janet Allenby, tells Romper in an email. "Each hair follicle usually has its own cycle, that is why we don't shed all at once and [the hair loss] is less obvious." So, if you're consistently losing hair on a daily basis, it's not cause for immediate alarm. "Typically about 10% of our scalp hair is in the shedding phase at any one time," Dr. Amy W. Fox, Associate Professor at UNC Department of Dermatology tells Romper. "There are times when women can experience significant increases in shedding, and the reasons for this are various."
How can I tell if I am losing too much hair?
That being said, increased hair loss can happen, and the increase in hair loss can often be subtle. "Sadly, by the time most people realize they have more than normal hair loss, approximately 50% of the hair has reduced," says Dr. Allenby. That's why it's best to be observant of the amount of hair you're shedding (but try not to obsess over it). Here are some clear signs you're losing too much hair to watch out for.
The long and the short of any of your hair loss worries are that it's best to call your doctor if you're concerned or if you're exhibiting other symptoms. "If you are having symptoms on the scalp like tenderness or itching that persists or increased shedding that lasts longer than a few months," that should signal a call to your doctor, Fox explains. The sooner you come in the better, agrees Allenby agrees. "[With hair loss] the most important piece is determining the type, whether it is a medical problem versus the natural progression of aging," she says "because the cause is the key to treatment and regrowing your hair."
Sources interviewed:
Dr. Amy W. Fox, M.D., Associate Professor at UNC Department of Dermatology
Dr. Janet Allenby, DO, Board-Certified Dermatologist
This article was originally published on