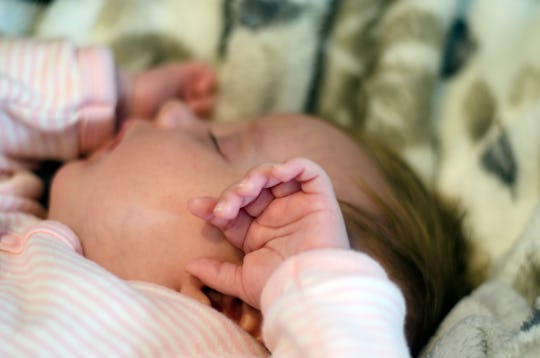 Mitch Diamond/Photodisc/Getty Images
Weighted Blankets, Swaddles, & Sleep Sacks Are Not Safe For Babies, AAP Warns
Pediatricians have urged the federal government not to lull parents into a false sense of security.
With claims that they could improve sleep, weighted sleep products for infants — blankets, sleep sacks, and swaddles — have become increasingly popular over the past few years. Recently, however, Sandy L. Chung, MD, President of the the American Academy of Pediatrics (AAP) wrote a letter to the U.S. Consumer Product Safety Commission (CPSC) expressing the group's concerns about these products. "The AAP believes these weighted swaddles and related products are unsafe for infants and does not recommend these products," the letter reads.
The CPSC has not indicated whether it will recommend a ban on such items, but did tell Consumer Reports on Wednesday that there has been at least one infant death tied to weighted sleep products marketed for babies.
Since 2021, the CPSC has convened a task group exploring the safety of "wearable infant blankets," which includes weighted sleep sacks. Specifically, the group seeks to create voluntary safety standards for these products through the American Society for Testing and Materials (ASTM) International." The AAP warns that such guidelines, especially voluntary ones, would "send parents and caregivers the incorrect message that these unnecessary products are safe."
"While voluntary standards are appropriate for certain products, given the AAP's clear policy regarding the danger of weighted infant sleep products, we oppose the development of any voluntary standard for these products," the letter reads.
A quick look at Google trends shows interest in weighted blankets has skyrocketed in the past five years (peaking annually around holiday shopping season). The Sleep Foundation suggests that these products could potentially reduce anxiety and improve one's sleep. So it makes sense that exhausted parents might consider purchasing such products for their own fussy babies.
But infants, the AAP warns, are not merely small adults. The organization cautions that available data on the safety of these products for babies is scant, but even what little data we do have suggest that they are not safe for infants, nor does the evidence "demonstrate that they are effective in helping babies sleep longer or with fewer disruptions," the letter reads. The AAP goes on to say that products that decrease arousal may contribute to a heightened risk of Sudden Infant Death Syndrome (SIDS).
The CPSC has not indicated how much it will consider this letter from the AAP. But in a statement to NBC News, CPSC Chair Alex Hoehn-Saric said that the agency is "is taking a close look at these weighted products as part of a larger examination of wearable blankets," before urging "careful" shopping.
The AAP's safe sleep guidelines for infants encourage babies to be placed on their backs for sleep in their own sleep space (such as a crib, bassinet, or portable play yard) with nothing but a firm, flat mattress and a fitted sheet.