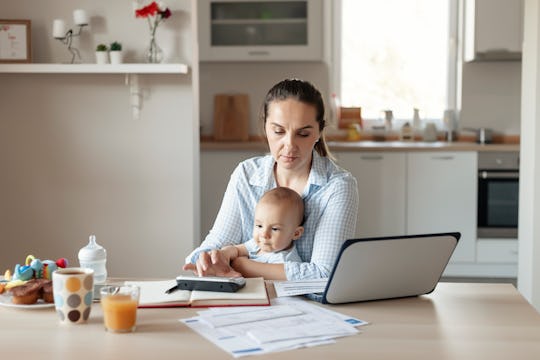 PixelsEffect/E+/Getty Images
Will We Get Another Stimulus Check? Here's What Families Need To Know
The House is set to vote on whether it will include $600 or $2,000 payments.
After months of negotiations, Congress has finally managed to pass a coronavirus economic relief package. Late Sunday, President Donald Trump signed a $2.3 trillion government funding bill, which included a $900 billion coronavirus economic relief package, despite nearly a week of railing against the legislation and suggesting he wouldn't sign it unless big changes were made. But while the relief package includes a new burst of funding for the Paycheck Protection Program and authorizes another round of unemployment aid, it does not include the direct $1,200 payments seen in the first relief bill. But eligible families will still see a second stimulus check. The question is, however, how big will it be?
Although a second round of direct stimulus payments was not initially included in the framework of the COVID relief bill signed into law Sunday, heavy criticism eventually led to $600 direct payment for both eligible adults and dependent children being included in the text of the bill along with a $300 a week federal unemployment benefit, the extension of a nationwide moratorium on evictions, child care and education funding, and a second round of the Paycheck Protection Program. But both President Trump and a majority of Democrats have insisted that a $600 stimulus check isn't enough and have pushed for direct payments of $2,000 to individuals and $4,000 to couples filing jointly.
So Will Families See A $600 Or $2,000 Payment?
It's still up in the air. When signing the coronavirus relief and government funding bill Sunday, Trump implied he did so with a commitment Congress would increase payments to individuals. "On Monday the House will vote to increase payments to individuals from $600 to $2,000," Trump said in a statement released by the White House. "Therefore, a family of four would receive $5,200." Trump went on to note the Senate would also "start the process for a vote that increases checks to $2,000."
If the House votes in favor of $2,000 relief payments, however, CNBC has reported that it's unlikely the GOP-led Senate will follow suit.
Indeed, it remains unclear if Republicans who have long been against large payments to eligible individuals and families will vote in favor of increasing payments to eligible adults from $600 to $2,000. What is clear, however, is that many families are in serious need of a second stimulus. Nearly 6 in 10 consumers reported having suffered a financial setback as a result of the ongoing COVID-19 pandemic in a recent TransUnion study. Additionally, 40% of households reported to have experienced a financial setback also reported that they'd been counting on a second stimulus check to help them pay bills.
This article was originally published on