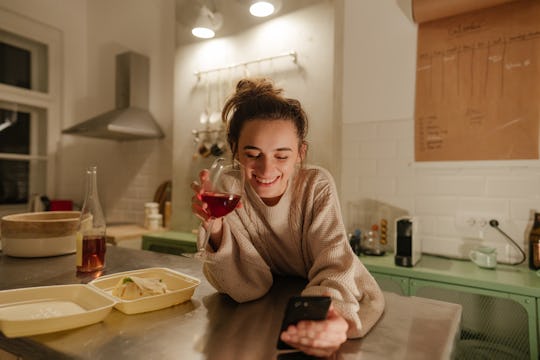 AleksandarNakic/E+/Getty Images
Zoom Date Ideas That Are Still Romantic
Dinner reservations? Never heard of her.
Dating is definitely looking different these days. Some people might feel totally fine with masking up, getting decked out, and going to a fancy restaurant or meeting up in a bar on the way home from work. Others might still feel more comfortable in their own homes, social distancing and staying away from any potential crowds. Thanks to travel restrictions and delays, some long-distance couples might not even be able to get together to see each other when they want, and for those dating with children at home, a good Zoom date idea feels essential. Honestly, for anyone who feels like an in-person date isn't an option, a virtual date might be the best idea. Luckily, Zoom date ideas for an evening can still feel romantic and intimate, even if you're not physically in the same place.
It's totally possible to achieve that same butterflies-in-your-stomach feeling while staring at a computer screen — it just requires a little work and some creativity (and we've probably all learned a lot about that by now). For starters, be sure to go into the date feeling positive and hopeful rather than disappointed and nervous. If you're miserable about the Zoom date from the start, it's probably not going to get much better from there. Just make the most of the situation you're in rather than dwelling on what couldn't be.
These date ideas can definitely help you do that. Whether you want to do something different and emotionally stimulating or something more romantic and steamy, there's something for every kind of couple, even the two people who literally just started dating. Once you find something fun, you'll see that you don't need flowers and expensive restaurants to enjoy yourself on a date.
Zoom Date Ideas With Food
Take a virtual cooking class. You don't have to go out to have a good meal. Take a virtual cooking class together to learn how to make something delicious all on your own. Cozy Meal has some really amazing options and allows you to register multiple devices so you can do it together in different places. Choose between everything from crepes for brunch to sushi rolling for dinner.
Cook the same thing together. Not into the class? If you both know your way around a kitchen, talk a few days before your Zoom date and plan out a menu with a few recipes (appetizer, dinner, dessert, drinks). Set up your computer in the kitchen so the camera can watch your every move, and then both of you can cook the same thing at the same time in your own kitchens. Afterwards, sit down and eat at the same time while having some great conversation.
Do a virtual wine tasting. You can do this yourself and order a variety of wines of your choosing, or you can check out something like In Good Taste's curated virtual wine tasting experience. You book the wine tasting, then choose and order your flight from the different flight packages they offer. Once you receive the cute array of mini bottles, you just need to add some snacks. Make yourself your own little cheeseboard and get into it. Bonus: you don't have to worry about driving home.
Play delivery roulette. If cooking isn't your thing, then why not support a local business and order takeout that you can eat together? Share any dietary restrictions and allergies, and then order a surprise meal for each other. It just makes takeout a little bit more exciting since you have no idea what you're going to get. You can even do a different spot for dessert if you're up for it.
Make cocktails together. Play mixologist together by finding a fun and interesting cocktail recipe (something that has a little more to it than just adding a few ingredients and shaking), and make them at the same time. To make this more romantic, dress up in a nice outfit (ditch the sweats), dim the lights, and order a dinner to eat together once your drinks are done.
Zoom Date Ideas With Games
Do an escape room. Escape rooms are a fun and exciting date idea. If you can't go to one, bring it to you! The Escape Game allows you to play on Zoom, and you can play in groups. This one would be best with a few other friends as well, if you're interested in a group Zoom date situation.
Plan a trivia night. If you guys both enjoy trivia, you can use that to plan a fun game night through Zoom. Random Trivia Generator is a website that's super easy to use. Just write out your answers, pick random questions, and at the end, the answers are revealed. Whoever got the most correct wins.
Draw together. No, you definitely don't need to be an artist to have fun with this one. Make it into a game, like virtual Pictionary, which can be super casual. You can also buy the same adult coloring books and color the same page as you have a conversation. There are a lot of ways to do this that could be more fun than you'd imagine.
Play the PowerPoint presentation game. Perhaps you've seen it on TikTok: the PowerPoint presentation game basically means that each person makes an entire PowerPoint presentation on a topic they're very interested or invested in. Unlike work, though, this is supposed to be fun and as interactive as possible. You present your PowerPoint to your date, and you can even send over props beforehand if you want.
Play a virtual drinking game. You can always keep things light and fun with a party-like atmosphere by playing virtual drinking games. Try something like Never Have I Ever or Two Truths And A Lie in order to learn more about each other. Pick your drinks of choice and maybe even pick drinks for each other if you want to be a little more adventurous.
Do a virtual game night. Instead of just talking or hanging out, you can get a little more involved in a game. There are websites that host board games you can play from your browser, like Board Game Arena or Tabletopia. You can also stream games on Tabletopia Simulator.
Zoom Date Ideas With Entertainment
"Travel" somewhere new. You might not be able to jet across the world to check out a new country, but there are online experiences that allow you to see things a different way. Amazon Explore offers some of these virtual events, like one where you can "stroll" through the romantic city of Verona in a 50-minute group session, or another one where you can get a glimpse of Barcelona. Once you're done, you can talk all about what you would do there the day you actually get to go.
Try a virtual museum tour. Take advantage of one of the coolest things about quarantine: virtual museum tours. These virtual tours give you the chance to peek inside some of the biggest museums in the world, all from the comfort of your living room. You can do it at the same time and learn something together. Some of the museums offering this include Solomon R. Guggenheim in New York City, Uffizi in Florence, British Museum in London, Musee d'Orsay in Paris, Rijksmuseum in Amsterdam, and J. Paul Getty Museum in Los Angeles. End the night with dinner and chat about everything you just saw.
Set up a Netflix Party. Stick with the old date classic: dinner and a movie. Or, in this case, dinner and a TV show binge. Set up a Netflix Party for an easy way to watch something together. Even if you're in separate places, watching something at the exact same time feels intimate and fun, and you can talk about what you're watching. Order some dinner and eat while watching if you want.
Learn a TikTok dance together. Pick out your favorite trending song and dance, then teach yourselves how to do it on camera. Not only is this really fun, but it's also a better way for you to both learn. You can give each other tips and pointers... or just fall over yourselves laughing. And, of course, don't forget to upload that video when you're done.
Learn something new together. You can experience something new together with something like MasterClass. A membership to the online platform offers classes in a range of different subjects, from lifestyles to politics to film. An expert creates a virtual lesson plan, which is about 20 videos around 10 minutes each. The courses can be two to five hours, and put you virtually face-to-face with celebrities and experts in their fields, people you'd never imagine you might have a chance to learn from. Pick something you're both interested in, and go from there.
Zoom Date Ideas For Bonding
Get some sexy time in. If you want to steam things up, put on a sexy outfit, light some candles, and get in bed with your computer. You can try good old-fashioned cyber sex, or you can turn it up a notch with app-controlled couples' sex toys. Something like the We-Vibe Sync makes it possible to feel super close together even when you're miles apart.
Ask each other the 36 Questions. Want to move in the more emotionally intimate direction? Try asking each other the 36 questions. Back story time: this stems from a 2015 New York Times story about a 1997 study from psychologist Arthur Aron, which looked at the intimacy between two people who asked each other 36 questions that got more and more in-depth as the "game" went along. You can find the 36 questions online, and they can lead to a stimulating conversation that allows you to learn so much about each other, and hopefully bond along the way.
Stargaze together. If it's not freezing cold where you live, grab a warm blanket, a glass of wine or mug of hot chocolate, and take your computer outside. Get comfortable in a lounge chair and stare at the stars together. There's something really romantic and sweet about realizing that even if you're both in different parts of the world, you're staring at the same sky.
Go for a walk together. Who says the date has to be at night? Plan a Zoom day date and head to a nearby park or somewhere nice you can walk around. Keep each other on your video call and chat as you wander. You can point out different things to each other and maybe even turn it into a little scavenger hunt as well.
This article was originally published on