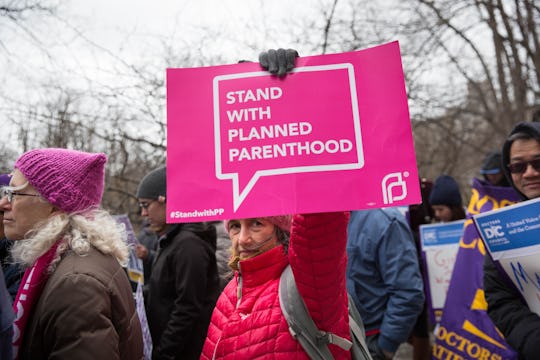 Kevin Hagen/Getty Images News/Getty Images
Planned Parenthood Has A Plan To Protect Abortion Access If Roe V. Wade Is Overturned
With a 50-48 vote, the Senate confirmed Brett Kavanaugh to the Supreme Court on Saturday, a development that upset many given Dr. Christine Blasey Ford's sexual assault allegations against him, which he has denied. Although Ford's claims are troubling enough as it is, there's another topic people are concerned about following the confirmation: the possibility that Roe V. Wade could be overturned. The only good news here? Planned Parenthood has a plan to protect abortion access while Roe V. Wade hangs in the balance, and it's very thorough.
There has been some debate about whether Kavanaugh would consider overturning Roe V. Wade, a 1973 Supreme Court ruling that guarantees a person's right to receive an abortion under the 14th amendment.
Kavanaugh said in 2006, for instance, that he would follow Roe v. Wade "faithfully and fully," according to C-SPAN, adding that its the "binding precedent" of the Supreme Court. But an earlier statement from Kavanaugh in 2003 seems to suggest there's a possibility he would vote to overturn the ruling.
"I am not sure that all legal scholars refer to Roe as the settled law of the land at the Supreme Court level since Court can always overrule its precedent, and three current Justices on the Court would do so," Kavanaugh reportedly wrote in an email at the time, according to HuffPost.
Although it remains to be seen if Kavanaugh would join other conservative Supreme Court justices in the fight to overturn Roe V. Wade, as The Boston Herald reported, it's clear Planned Parenthood won't stand idly by either way.
The organization released a three-part and multi-million dollar action plan on Wednesday, detailing its proposed measures to protect abortion rights. Dr. Amy Whitaker of Planned Parenthood of Illinois said in a statement:
Every day in our health centers, we see firsthand the kind of impact severe abortion restrictions have on the women in states that border Illinois. Already, women are forced to face the financial burden of traveling to us from out of state to access care. As a health care provider and advocate, we are committed to using every tool at our disposal to reduce barriers and increase access to safe, legal abortion. We know that we'll need an ironclad network of states and providers across the country where abortion will still be legal and accessible, no matter what happens at the Supreme Court.
To achieve its goal of protecting abortion rights no matter what happens, Planned Parenthood intends to expand its reach in three key areas: Policy, Culture Change, and Access, its website states.
In terms of access, the organization will increase its "investment in a Regional Access Network, expanding where telemedicine is offered, and leveraging technology and innovation to help connect people to services," the action plan states.
Translation: Planned Parenthood will do everything it can to bring its services to people who might be affected by the reversal of Roe V. Wade.
Next up is policy, a key area of focus given that the midterm elections are right around the corner. Planned Parenthood aims to "partner" with "state advocates and coalition partners" across the United States to "ensure there's an ironclad network of states" where abortion will still be legal, and it will work hard to prevent harmful legislation from passing, according to The Washington Post.
Lastly, Planned Parenthood will work to change the cultural stigmas surrounding abortion rights by consulting with people involved in the "music, fashion, movie, and television industries." Planned Parenthood's Vice President of Communications, Kevin Griffis, explained in a statement, according to NPR:
[Stigma] truly is at the heart of the attacks that we're seeing. And I think the key to reducing that is really being able to change people's perception of abortion so that they see it for what it is — which is a really safe medical procedure and a typical, standard part of healthcare.
As for how you can aid in this fight directly, make sure you vote in the upcoming election, and stay in the know about legislation that aims to dismantle a person's right to choose. You can also volunteer at Planned Parenthood in the areas of administration, advocacy, education, and fundraising.
Although this is a scary time, it's comforting to know that Planned Parenthood has put in the effort to develop such a thorough and action-based plan in the fight for abortion rights.