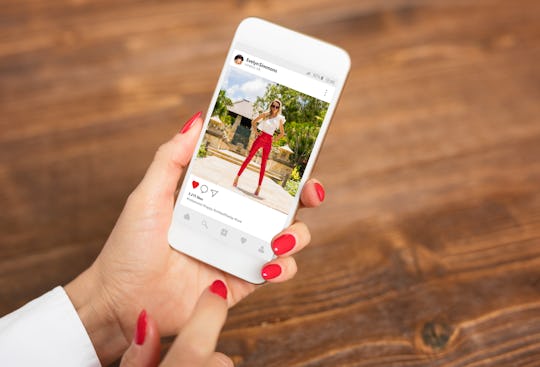 Shutterstock
How To See Who Mutes You On Instagram
You'll have to do some sleuthing
Social media sites like Twitter, Facebook, Instagram all allow users to, in some way or another, mute who they follow. You can take someone's photos out of your feed without actually unfollowing or unfriending them altogether, which is a nice solution for that one friend who shares far too many blurry pics of their dog. But as for how to see who mutes you on Instagram, well, it's a bit more complicated because you won't be notified if it does happen.
In May 2018, Instagram announced that it introduced a "mute" feature to the app, which the company described as "a new way to control what posts you see." According to Instagram's press page, "The new feature lets you hide posts in feed from certain accounts, without unfollowing them. With this change, you can make your feed even more personalized to what matters to you."
As Guiding Tech explains, there are actually three different types of mute options on Instagram: a mute for messages, push notifications, as well as for stories and posts. And if you decide to mute someone, according to Instagram, "the accounts you mute will not be aware that you've muted them," which means you'd have to do a little sleuthing to figure out whether someone has muted you.
For example, if someone stops liking your posts or viewing your Instagram Stories consistently (despite your handle still being in their follower list) something might be up. If they don't respond to your DMs or answer your video chats anymore, something might be up.
It's tough to know for sure if someone's muted you on Instagram because both people can still each other's posts on their profile pages and will get notified "about comments or posts you're tagged in," according to the app. Hiding and blocking someone on Instagram, however, is much different.
As for hiding someone, the app explains, "If you don't want someone to see your story, you can hide your story from them and prevent them from seeing anything you post to your story in the future." Again, you won't be notified if someone has hidden their stories from you, but as Techzillo noted, you could get a little clever to try and determine if that's happened. For example, Techzillo suggests asking a friend to send you (via DM) the person's Instagram story you think may have hidden you. If you can't see it, then you have you answer. With hiding, you can still see the person's profile and posts, just not their stories, according to Instagram.
When it comes to blocking, again, Instagram doesn't notify you if someone's blocked you. However, according to Refinery 29, you'll know if you've been blocked on Instagram if you can't find the suspected person's profile or see their posts or stories anymore.
With each new feature and update, it seems Instagram and other social media companies are trying to find ways to personalize each users' experience. Whether that means silencing some users who you could stand to hear a little less from or simply blocking someone entirely, Instagram has various ways for you to customize your experience — even if that means you're on the receiving end of a mute.
This article was originally published on