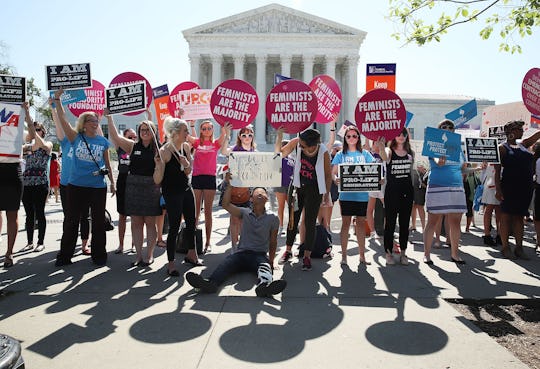 Mark Wilson/Getty Images News/Getty Images
Why The SCOTUS' Ruling On Whether "Crisis Pregnancy Centers" Must Give Abortion Info Will Matter
A California case will make its way up to the national level as groups argue against giving women accurate abortion and contraception information. In the National Institute of Family and Life Advocates (NIFLA) v. Becerra case, the Supreme Court will decide if so-called "Crisis Pregnancy Centers" (CPCs) have to give women all of their options, including abortion. If the SCOTUS strikes down current state law — which requires CPCs to provide women with information about abortions — such a decision could affect not just California, but the rest of the country, too.
According to Slate, CPCs "often open their doors near abortion clinics and advertise to pregnant women in need of medical help. But, as the publication noted, "they offer very limited services — sometimes, no actual medical services at all — and espouse anti-abortion information in an attempt to counsel women out of terminating their pregnancies." Therefore, when pregnant women think that they're attending an appointment with a medical clinic to discuss possible options, they instead are just scheduled for a meeting with a non-medically licensed counselor.
To combat this misleading practice, according to NPR, existing California law insists that CPCs post the following notice within their facilities, sharing the prevalence of family planning tools and offering a phone number to call if need be:
California has public programs that provide immediate free or low-cost access to comprehensive family planning services (including all FDA-approved methods of contraception), prenatal care, and abortion for eligible women. To determine whether you qualify, contact the county social services office at [insert telephone number].
Also, as Reuters reported, if a CPCs are unlicensed, it must state so publicly, notifying visitors:
This facility is not licensed as a medical facility by the State of California and has no licensed medical provider who provides or directly supervises the provision of services.
These requirements were passed in 2015 under the Reproductive FACT (Freedom, Accountability, Comprehensive Care, and Transparency) Act. NIFLA, however, claims that the requirements run counter to their beliefs. In the appeal, the organization complains that "the state of California now forces licensed centers to communicate the government's message about state-funded abortions to everyone who walks in the door," according to Bloomberg.
The Los Angeles Times estimates that the more than 200 CPCs in the state "sometimes misled or confused women into believing they provided the full range of medical care, including abortions." FACT's protocol, then, is meant to fully inform women about the services that a facility actually offers, as well as whether or not a center actually has medically trained staff member rather than pro-life counseling services alone.
NIFLA characterizes their grievance as a First Amendment violation and an attack on free speech, as NPR reported. The organization claims that it's unconstitutional to ask CPCs to comply with FACT and thus disclose if they are not medically licensed and to provide a contact for contraceptive and abortion information, according to a press release from the organization.
In the previous, state ruling, the U.S. 9th Circuit Court of Appeals upheld the law, stating that the law properly regulated medical providers, according to The New York Times. Furthermore, the required statements that CPCs were asked to post, courts found, as The Times reported, were fact-based rather than persuasive, and didn't function to influence women either way. "It does not contain any more speech than necessary nor does it encourage, suggest or imply that women should use those state-funded services," Judge Dorothy W. Nelson wrote, according to The Times.
Abortion availability and access continues to dwindle in the United States, with a seven percent decrease from 2008 to 2014, Business Insider reported. At present, some states have as few as one abortion provider for their entire population. (For a list of California clinics, click here.) And now CPCs are seeking fewer requirements and are working to defend their right to present themselves as medical professionals. If the Supreme Court sides with NIFLA on this case, it's possible that "free speech" could then be deemed as an appropriate justification to deny women accurate medical information and, as a result, safe medical services.
A national ruling of this nature could open the floodgates for more institutions to deny information to pregnant women in need of medical assistance and education. After hearing arguments from both sides, the Supreme Court is reportedly expected to make a decision on the matter in June.