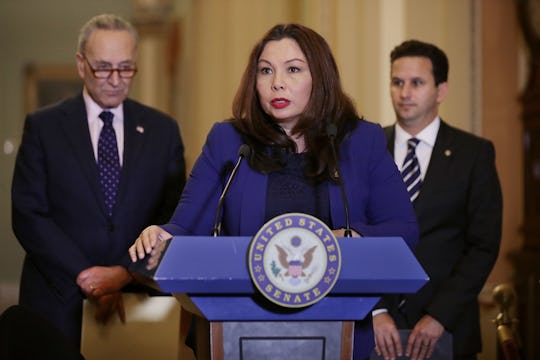 Chip Somodevilla/Getty Images News/Getty Images
Sen. Tammy Duckworth Gives Birth To A Baby Girl & It Marks A Historic First
Sen. Tammy Duckworth (D-IL) has some exciting, history-making news. On Monday, her office announced that Tammy Duckworth gave birth to a baby girl, making her the first senator to deliver a child while in office. It's a big step forward in representation, providing further proof that women can be effective leaders and mothers all at the same time, even when institutions are slow to give them the support they need.
"Bryan, Abigail and I couldn't be happier to welcome little Maile Pearl as the newest addition to our family," Duckworth announced on her Twitter account. Maile Pearl is the second child for Duckworth, age 50, who gave birth to her first daughter with husband Bryan Bowlsbey in 2014 while she was serving in the House of Representatives. And while 10 female lawmakers have given birth while serving in Congress, according to the Chicago Sun-Times, all of those women were in the House at the time until now. (Of course, plenty of men have become fathers while serving in Congress, but somehow they don't have to prove that they can handle it all in the same way as women do...)
Ever the hardworking inspiration, Duckworth has already made it clear that she wants to help other working parents, in a system that far too often fails to provide the support they need.
In her statement about her daughter's birth, according to Politico, Duckworth said:
Parenthood isn't just a women's issue, it's an economic issue and one that affects all parents—men and women alike. As tough as juggling the demands of motherhood and being a Senator can be, I'm hardly alone or unique as a working parent, and my children only make me more committed to doing my job and standing up for hardworking families everywhere.
It's no secret that the United States has an abysmal track record when it comes to paid leave. America is the only developed nation in the world that doesn't provide that form of protection for new parents even though, according to Business Insider, most Americans want it. Most parents end up having to rely on the policies at their individual workplaces, which can vary drastically.
In the absence of strong guaranteed leave policies, taking time off can cause all sorts of issues for a new mother, and help perpetuate inequality between men and women in the workforce. Duckworth is planning to take 12 weeks of paid leave, according to Politico, the same amount that she offers her staff, but as she pointed out on the Women Rule podcast:
I can't technically take maternity leave. Because if I take maternity leave, then I won't be allowed to sponsor legislation or vote during that time period.
Furthermore, according to Politico, Duckworth said:
You are not allowed to bring children onto the floor of the Senate at all. If I have to vote, and I'm breastfeeding my child, especially during my maternity leave period, what do I do? Leave her sitting outside?
Now, Duckworth's fellow senators will be faced with a situation they've never experienced before. They will have to think long and hard about if they want to stick to antiquated, arbitrary rules, or if they want to move forward into a new future, one that can hopefully extend to all Americans, not just members of Congress.
Duckworth's pregnancy has brought some visibility to a struggle that people face all the time. Luckily, the retired lieutenant colonel, who lost her legs when her helicopter was shot down in Iraq, knows how to fight for what she believes in.
Congratulations to Duckworth and her family on the exciting news. And thank you to Duckworth for leading the way toward greater equality.
Check out Romper's new video series, Bearing The Motherload, where disagreeing parents from different sides of an issue sit down with a mediator and talk about how to support (and not judge) each other's parenting perspectives. New episodes air Mondays on Facebook.