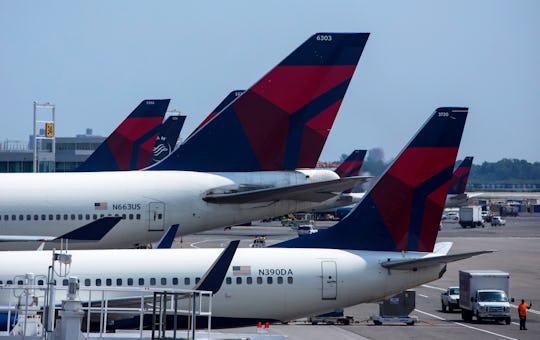 What Does A Worldwide Travel Alert Mean? U.S. State Department Warns Travelers To Be Cautious
Thanksgiving travel is never, ever easy, but it might be more nerve-wracking than usual this holiday. Though we had already anticipated increased security at airports following the terror attacks in Paris one week ago, the U.S. State Department has issued a worldwide travel alert for those who might be leaving the country for the holidays.
According to statements from the department, the alert was issued thanks to "increased terrorist threats" that came after the Nov. 13 Paris attacks. Following the terror attacks, which ISIS has claimed credit for, the militant group released two separate videos, one threatening Washington, D.C. and other sympathetic countries, and another threatening New York City. Read the warning:
Current information suggests that [ISIS], al-Qa'ida, Boko Haram, and other terrorist groups continue to plan terrorist attacks in multiple regions. These attacks may employ a wide variety of tactics, using conventional and non-conventional weapons and targeting both official and private interests.
And, according to the alert, those attacks "will continue," as will the threat of copycat attackers not affiliated with any of the militant organizations.
The alert is rare, so what does it mean? As the New York mantra goes, if you see something, say something. And as your mother's mantra goes, keep your eyes open. The alert does not single out any specific threat area (as previous alerts had in the past), but instead tells U.S. citizens to be wary of their surroundings... for three months. Yep, the alert doesn't expire until Feb. 24, 2016.
So how can U.S. citizens protect themselves from the enemy — or, in this case, any enemy? The alert tells Americans to be cautious in crowded, public places, as well as on transportation. Luckily, airports are already beefing up security in the wake of the Paris attacks, "doubling down" on efforts, according to U.S. Homeland Security Secretary Jeh Johnson. (Thus, travelers can expect longer wait times.)
Still, despite the alert, U.S. citizens shouldn't be expecting an imminent threat, like those in Belgium. There has still been no specific or credible threat against the U.S. according to authorities, and President Barack Obama himself, who said, "The most powerful tool we have to fight ISIL is to say that we're not afraid, to not elevate them, to somehow buy into their fantasy that they're doing something important."
But, of course, that's exactly what the alert says as well. There's no specific threat to worry about... but that doesn't mean we can't keep our eyes open. And hopefully this note from the U.S. State Department will calm your nerves.
We continue to work closely with our allies on the threat from international terrorism. Information is routinely shared between the United States and our key partners in order to disrupt terrorist plotting, identify and take action against potential operatives, and strengthen our defenses against potential threats.
But you might as well do your part as well.
Image: Eric Thayer/Getty