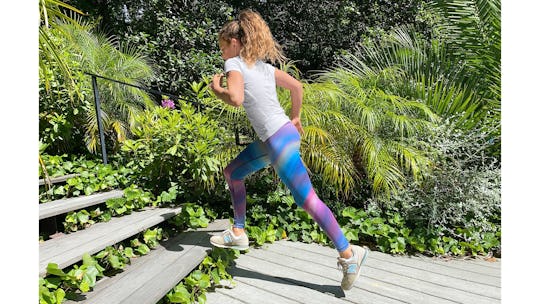 Courtesy of Athleta Girl
10 Athleta Girl Pieces We Wish Were Available In Our Size
It's no secret that girl moms strive to raise daughters with the confidence that they can be or do anything they put their minds to. And when it comes to what our daughters wear, we're teaching them the right outfit is one that brings joy. Even though exhibiting personal style isn't going to singlehandedly persuade your girl to pursue her dreams, it can help her embrace the unique characteristics that showcase the powerhouse she already is.
When outfitting the next generation of strong women, why not encourage them to pick pieces as inspiring (and as cute!) as they are? Here are 10 Athleta Girl products so fun, you'll wish you could swipe them for yourself.
1. A Tight Colored With Charisma
If a unicorn wore tights, she'd be sporting these. Perfect for after-school playing or mid-day slaying, these colorful bottoms form the foundation for a making a statement.
2. Joggers As Versatile As She Is
First there was the little black dress. Then there were joggers! Wardrobe staples come in many shapes and forms, but these comfortable sweats will bring a cozy swagger to all of your daughter's successes.
3. Patterned Tights With A Hidden Pocket
A camo print sets these pants apart, but it's the hidden key pocket that earns them must-have status. With sizes ranging from XS to XXL, these tights will help your girl feel comfortable in whatever skin she's in.
4. A Power Top With A Positive Trim
This generation's answer to the power suit? A seamless top with thumb holes! Form-fitting, flexible, and finished with a motivating mantra — "own your power" — this shirt urges optimism with every wear.
5. A Hoodie She'll Live In
This hoodie is so relaxed, it'll turn your climate into sweater weather no matter where you live. From outdoor adventures to hangouts at home, this set of sleeves will be the extra layer she needs to do whatever she does best.
6. A Playful Pullover
Sporty in style and soft to the touch, this top is tailored for movement. And with fabric sustainably sourced from post-consumer plastic bottles, your daughter's positive impact will look as good as it feels.
7. Next-Level Tights
The silky texture and gentle compression of these tights are enviable, but it's their extra features that make them irresistible. With side pockets and an adjustable drawstring, these tights are full of surprises — like a hair tie! — to accommodate your girl's on-the-go style.
8. A Stretchy Sports Bra
For support without discomfort, this dynamic bra delivers. With a fun pattern, scoop neck, flexible straps, and removable pads, this piece makes every move seem achievable.
9. Shorts That Are Long On Personality
Functional but fun, these shorts' celestial print make the featherweight fabric feel like an added bonus. And with an adjustable fit and room to grow, they'll give your mini the space she needs to chase her dreams.
10. A Skort With A Competitive Edge
Whether your girl is serving balls on the court or serving looks in the hallway, this shorts-and-skirt combo is sure to serve her well. Comfy, breathable, and quick-drying, this camouflage cutie offers her more perks than meet the eye.
This post is sponsored by Athleta Girl.