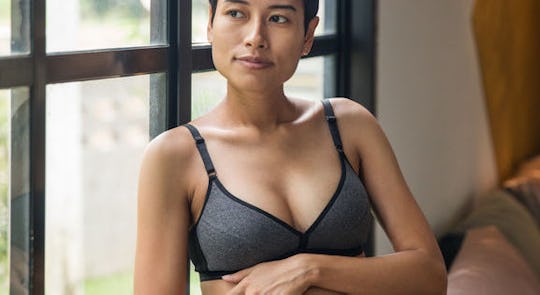 Jovo Jovanovic/Stocksy
10 Best Maternity Bras On Amazon With Near-Perfect Reviews
Bra shopping online can be a bit of a gamble, since it's an item that needs to fit perfectly. It's an even bigger risk when you're pregnant, because your girls are likely to be changing size. If you're going to take a chance on ordering something, you'll want to make sure it's been given the stamp of approval by tons of other pregnant women. These maternity bras on Amazon have tons of glowing reviews, and could be well worth the investment.
Maternity bras have a few great things going for them. They're usually super stretchy, which is a nice bonus when your boob size is fluctuating and you can't exactly commit to a cup size (Healthline noted that moms can expect their breasts to grow throughout all three trimesters.) They're often wire-free, which is much more comfortable if your pregnancy hormones are making your chest extra sensitive. And they double as nursing bras, so you can keep using them well after your baby is born to help with nursing and pumping. Maternity bras can also take you from day to night, because your breasts might be too sensitive to go braless when you're sleeping.
These 10 bras all have overwhelmingly positive reviews, and can carry you through pregnancy to postpartum.