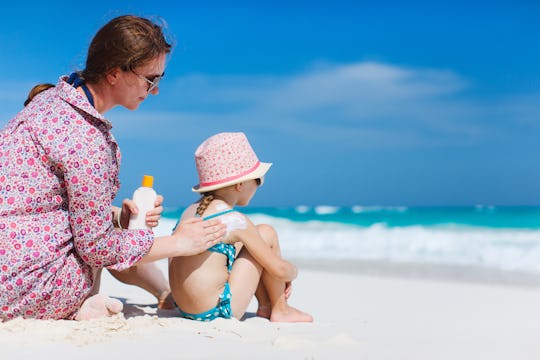 BlueOrange Studio/Fotolia
The 10 Biggest Sunblock Mistakes Might Not Be As Obvious As You Think
'Tis the season, parents — the season for sunburned shoulders and tantrums over sunblock application, that is. As fun as the long summer days can be with children, its no secret that putting sunscreen on kids is kind of the bane of a parent's existence. Still, what must be done must be done — and if you've got to do it, you'd better do it right. Because the only thing worse than smearing white goo over every square inch of your kid's body is being up all night with them after a burn, and there are some big sunblock mistakes that you definitely don't want to make.
Thankfully, swimwear companies are beginning to wise up to just how much parents loathe the sunscreen application process, and we're seeing more long sleeved rash guards on the market for kiddos as a result. And while it's awesome to easily have their entire torsos covered, you still have to protect their legs, feet, hands, and face — so you'd better be sure you're doing it right.
Not only do you want to avoid the aftermath of a serious sunburn (read: aloe vera gel dried and stuck to the sheets), you of course need to protect your little ones from sun damage, too. Here are the sunblock mistakes you definitely don't want to make.