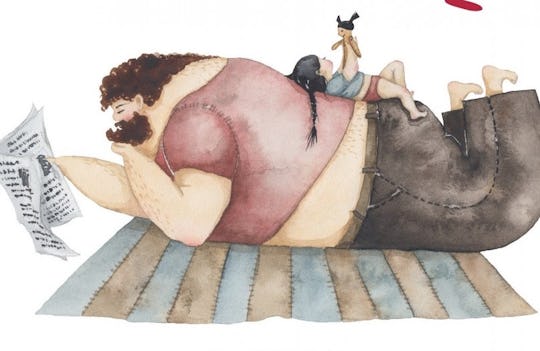 Little Brown Young Readers
10 Books For Kids That Lovingly Depict Dad-dom (& Granddad-dom)
Reading a book 200 times is a surefire way to find out whether you love it or want to throw its rhyming llama couplets into the diaper pail. Children's books especially do a tricky dance for an audience of squinty-eyed parents and wide-eyed tots: the best ones, like a syringe of infant-suspension Tylenol, have a little something for the parent at the end. These are the ones we are celebrating in This Book Belongs To — the books that send us back to the days of our own footed pajamas, and make us feel only half-exhausted when our tiny overlords ask to read them one more time.
It is time to reflect on, nay to honor, the work that dad voices across the world perform bringing to life picture book characters at bedtime. I am here for dads reading all the voices in The Gruffalo, raising a rumpus in Where The Wild Things Are, and reciting every exhausting Dr. Seuss book.
They put in the hard yards, night after night, so it's about time we put together a bunch of children's books for Father's Day that will delight the dad figures in your kid's life. There's a certain magic to a father-child relationship, and these books nail it. From long walks to snuggles, from terrible dad jokes to missing grandparents who are no longer here, these books will hit fathers and grandfathers in the feels.