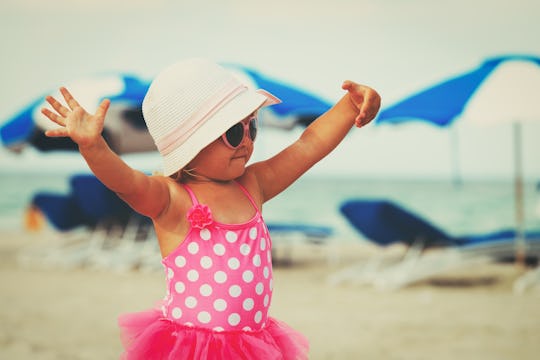 nadezhda1906/Fotolia
10 Super Cute UV Baby Swimsuits To Keep Them Extra Safe In The Sun
Among the many joys of parenting during the summer months is knowing that you're going to spend the majority of any time spent at the beach or pool slathering your baby in sunblock over, and over, and over again. And despite your due diligence, there's still a good chance your little one is going to end up getting a little too much sun sometimes. Luckily, more and more brands are offering clothing with built in UPF (Ultraviolet Protection Factor). So where can you find some super cute UV swimsuits for babies that will make her day in the sun a little safer?
Of course, pretty much every baby swimsuit is super cute, because, well, tiny swimsuits! Awww. But finding an adorable option with UPF/SPF really is worth the extra effort, because babies have such sensitive skin — and because going overboard with sunblock isn't a good idea for very young infants. (While the belief persists that sunblock is totally off limits for new babies, the American Academy of Pediatrics actually recommends that parents apply a "minimal amount of sunscreen with at least 15 SPF on infants under 6 months to small areas," such as your baby's face or the backs of her hands.)
The good news is, most UV swimsuits for babies are made from fabrics labeled UPF 50+, an even higher level of protection than many sunscreens. Granted, a swimsuit won't do much to keep her nose or toes from turning red, but it will protect a significant amount of her body. And you can always add a UV hat for extra shade (and style).