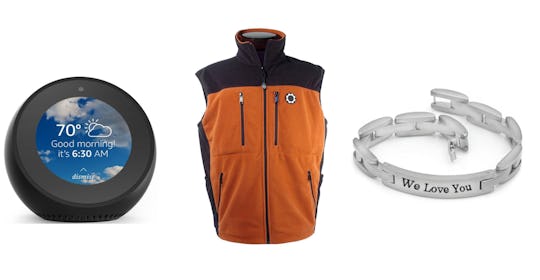 10 Daddy "Push Gift" Ideas To Celebrate His New Role As Dad
You've soldiered through your pregnancy like a boss, and of course, all the attention and care you get is well deserved and needed. But what about the man who ran out in the middle of the night to fulfill your extra specific food cravings and silently sat with you as you rode up and down that emotional pregnancy roller coaster? He's held your hand through the best and the worst, so show him some love with one of these wonderful Daddy push gift ideas, because he deserves a little bit of credit, too.
Deciding to get him a gift is the easy part — it's the actual gift that can be tricky. Push gifts for moms are usually some type of jewelry, but not every man has a thing for bling, so you may have to think outside of the box a little. Figure out what he loves most (besides you), like a hobby or activity, and get him something special that correlates to his passions. Not only will he get some enjoyment and use out of his present, he'll actually appreciate how much thought and effort you put into it as well.
So as a "thank you" to the man who's been your rock, your cushion, and your biggest supporter, check out these awesome Daddy push gift ideas.