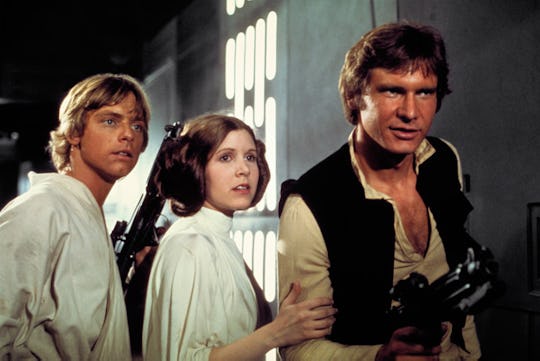 10 DIY Kids 'Star Wars' Costumes Your Little Jedi Can Wear To 'The Force Awakens'
When I was a kid, my mom made me a Princess Leia costume, and I basically lived in the white frock for a year. And with Star Wars: The Force Awakens coming out this month, I'm sure there is a whole new crop of little tykes out there longing to don a DIY Star Wars costume on opening night. As December 18 gets closer and closer, your kids might even be asking you for a Star Wars themed costume they can wear to go see the film in theaters.
There is always the option to buy a costume for your child, but the Star Wars character's outfits are actually pretty easy to make yourself if you're feeling crafty. Jedis basically wear oversized layers, so if you don't mind compiling tunics, vests, robes and belts you can easily make your child any of their favorite characters by just putting together pieces they might already have in their closets. Sure, some characters (ahem, Darth Vader), require more specific pieces or DIY creating, but if you're up to the challenge it's absolutely doable.
Once your kid has decided on who they want to dress up as for the movie (and, if they're anything like I was as a kid, for the next nine months), here's how you can easily create the look.
1. Luke Skywalker
The Jedi uniform is pretty simple to make. All you need is a cream or white bathrobe, a brown belt and some khaki pants. If you have sand colored boots, great, but if not, you can warp beige ribbon or even masking tape around the leg of the pants to create the illusion.
2. Princess Leia
The easiest way to make a princess Leia costume is to get an oversized white shirt (maybe from Daddy's closet?) and belt it. You can also get a white long sleeve shirt — Leia's is a turtleneck — and a long white skirt to create the dress and then cinch that with a white belt. The most important part of this costume is, of course, the Princess Leia hairdo, so make sure to get some bobby pins.
3. Han Solo
To look like the pilot of the Millennium Falcon, all you need is a pair of black pants, a long sleeved beige shirt and a black vest. If you want to get really creative and go full-out on the costume, you can make an awesome utility belt with just a brown belt and some silver spray-painted cardboard.
4. Darth Vader
Unlike our Jedis, making a costume for the leader of the Dark Side presents a bit more of a challenge. What you need to do is dress your child in all black, then add a black cape and black gloves. As for the iconic headpiece, while not technically DIY, the best way to achieve this is probably to get a Darth Vader mask unless you're a paper-mâché queen.
5. Yoda
If your kid wants to dress up as Yoda, you can repurpose the robe you used for Luke Skywalker; then all you need is a brown turtleneck and some green face paint to complete the look. And if you really want to go full-Yoda, get some white hairspray so your tot can look old and wise.
6. Obi-Wan Kenobi
Want to be Obi-Wan Kenobi? Just take the Luke Skywalker costume we've created and add two more pieces: a brown undershirt and a brown robe on-top and, viola, you have the Jedi master.
7. R2-D2
Droid dress-up is the ultimate DIY costume creation. All you need is a blank white canvas — a shirt, sweatshirt or dress will do — and some blue, black and red fabric markers. Keep that the "body." Then get a white beanie and design R2's head to put on top of your child's head, and you have the cutest DIY R2-D2 ever.
And now for the newest characters...
While we don't have much to go off of on how Star Wars' three new main characters are going to dress, the trailers have provided us with some serious costume inspiration.
8. Rey
This costume is deceptively difficult. If you're a pro with a sewing machine it shouldn't be a problem, but if you're looking to make this costume by compiling pieces of clothing it's a little more troublesome. Start with some cargo capris and a beige tank top. Then, get some beige fabric which you will wrap around your daughter to match the dress and vest Rey is wearing and around her arms to create the sleeves. Get some brown ribbon to create her belt and the cuff on her left arm. Then have fun doing her hair in the line of buns (which might become just as iconic as Princess Leia's famous 'do.)
9. Finn
Black pants, black shirt and a super cool brown faux-leather jacket make this costume easy to put together. Add patches of red felt to make the jacket really look like Finn's and you've got an awesome outfit.
10. Poe Dameron
Assuming you don't have an orange jumpsuit lying around the house, you'll have to find orange separates. While orange cargo pants are best, they're hard to find, so use any orange slacks and sew on pockets for the cargo-effect. You'll also need either an orange jacket or just an orange long-sleeved shirt and a white vest, with brown boots on the feet. Then, to complete the look, use your costuming skills and attention to detail to recreate all of the intricate accessories of this costume with black ribbon and fabric markers.
And if your kid wants to be Chewbacca...well...good luck!
Images: Lucasfilm (11)