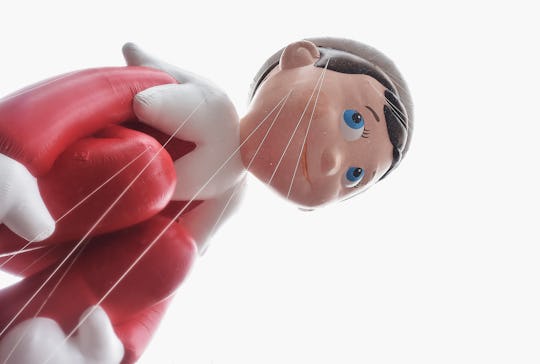 Michael Loccisano/Getty Images News/Getty Images
10 Easy Elf On The Shelf Ideas, Because You're Not Martha F*cking Stewart
In theory, most parents are totally on board with the Christmas magic of the Elf on the Shelf. The idea that your kids are going to wake up every morning with anticipation in their eyes and race around the house trying to see what the Elf was up to last night is a lovely holiday dream. But in reality, December gets busy and stressful quickly, and that Elf gets lost by the wayside — and if it doesn't, something else surely does. Which is why we all need easy Elf on the Shelf ideas, because you're not a craft queen with endless hours of time or help on her hands. Your holidays are much, much too busy for make-your-own snow globes and the endless glitter that will be showing up around the house, your clothes — everywhere! — until Easter.
Instead, how about we just freeze the Elf on the Shelf in a cup of water overnight and blame Elsa? Sounds hilarious and adorable and very, very easy. Snow angels with flour? That's one ingredient and an Elf — both of which you have. It couldn't be easier than that. Got some bananas? A little bit of Sharpie art will go a long way.
If you're looking for the easiest Elf on the Shelf ideas out there, you've come to the right place.