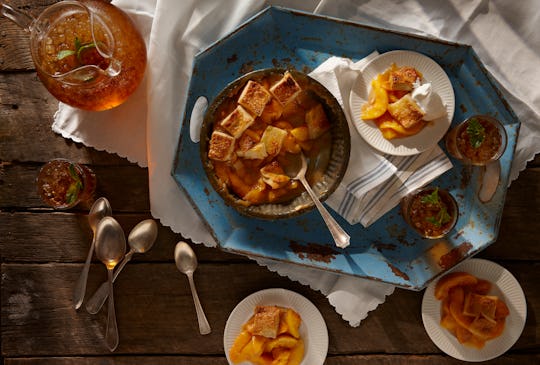 Lew Robertson/Stone/Getty Images
10 Easy Peach Recipes That Perfectly Taste Like Summer
The peaches this year are some of the best I've ever had. That means I've been buying them by the truckload, ready to eat them raw, chopped into salads, and of course, baked. To that end, I've found some easy peach recipes that will absolutely blow your mind. These really are simple and delicious (and one or two might be of the adult variety for extra fun), so if you have a basket of them in your kitchen, get ready.
Peaches are such a versatile fruit. They can be used in both savory and sweet preparations given the right ingredients, they work wonderfully with meat and with fish, and of course, with sugar and butter. You don't need the perfect, unblemished peaches to use in your recipes, either. If they get a little banged up, they'll be fine. They're not like an apple or a pear where you're depending upon their firm texture. Peaches are soft to begin with and only get softer as they cook or macerate in alcohol. They are perfectly low maintenance fruits that don't require much handling or peeling to be ready. A quick chop is truly all you need to to do before you prepare them.
These recipes run the gamut as far as flavor profiles go, but the one thing they all have in common is that they are dead simple to put together.