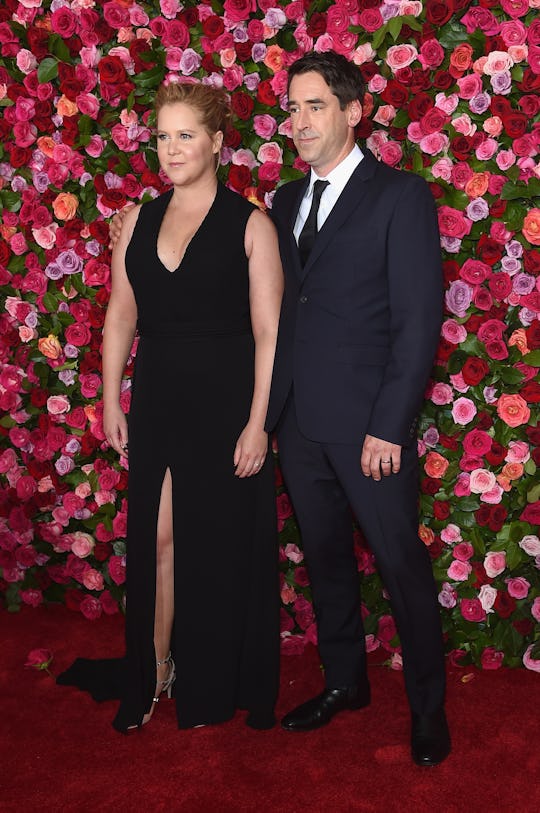 Jamie McCarthy/Getty Images Entertainment/Getty Images
10 Facts About Chris Fischer, Amy Schumer's Husband, Chef, & Dad-To-Be
It's been a big year for Amy Schumer and Chris Fischer. Back in February, the couple announced that they tied the knot after only a few months of dating. As though that wasn't sweet and serendipitous enough, on Oct. 21, they announced that they were expecting their first child together, and yes, fans are predictably freaking out. But for those who aren't familiar with Schumer's better half, here are 10 facts about Chris Fischer, Amy Schumer's husband from Martha's Vineyard.
Marrying a celebrity is a unique experience, one to which many of us couldn't even begin to relate. Though his wife is decidedly in the public eye as one of the most famous comedians in the world right now, Fischer opts to keep a more private profile, shying away from social media and the camera in general. Schumer has only posted photos of him a handful of times, including when she announced their marriage. However, that's not unusual for many celebs who prefer to keep their relationships private.
Regardless, Fischer is a pretty interesting person, and definitely has a career of his own. Here are the 10 most fascinating things to know about Schumer's newlywed husband, and the happy dad-to-be.
1. He's A Chef
Fischer may be married to a comedian, but he himself is a culinary expert, according to Elle. The magazine reported that prior to his relationship with Schumer, Fischer cooked in Europe, and also worked at an inn on Martha's Vineyard, where he's from.
2. He's From Martha's Vineyard
Fischer's roots apparently span far back in his home of Martha's Vineyard. Elle also reported that his family had been there for "more than 250 years," and that in 1961, his grandfather bought Beetlebung Farm, which Fischer now owns and operates.
3. He's Renovating His Family Farm
Though he's usually working as a chef, Boston Magazine reported that Fischer also had ambitions to purchase his family's farm — Beetlebung — and to restore it himself.
Fischer told the magazine: "After years of working for other people, my intuition is, 'I'm doing this on my own terms," saying he was planning to build a kitchen to serve breakfast, and eventually, dinner at the farm. "You can create a destination restaurant anywhere," he said.
4. He Wrote A Cookbook
In keeping with the theme of working within his family's farmstead, Fischer penned The Beetlebung Farm Cookbook, which has been described as "the heartfelt declaration of a new American way of food, celebrating a year of cooking and farming on the island of Martha's Vineyard."
5. Living In New York City Inspired Him To Grow His Own Food
In an interview with the Vineyard Gazette, Fischer opened up about how, when he lived in New York, he studied under chef Mario Batali. However, the chaos of the city inspired him to want to reconnect with his roots.
"I think there's a certain amount of self-sufficiency that comes from living in a rural place and living far away from stores," Fischer said. "I mean, if something has to get done, you have to figure out how to do it."
6. He Met Schumer On Martha's Vineyard
True to form, and perhaps unsurprisingly given his interests, Fischer did not connect with Schumer at a party in L.A. Rather, the two met when Schumer was taking a trip to his hometown, and ended up connecting via mutual friends, Good Morning America reported Schumer told Howard Stern on his radio show.
7. He & Schumer Decided To Get Married Quickly
When you know... you know? Earlier this year, Schumer announced that she and Fischer decided to tie the knot rather surreptitiously. Good Morning America also reported that Schumer said she didn't even send out invitations, just texted a few friends saying: "I'm getting married on Tuesday. I hope you can come."
8. Schumer Is Smitten With Him
In an interview for her movie, I Feel Pretty, Schumer opened up to Extra TV about how she had no plans of just settling down with anyone, but that when she met Fischer, she knew she had to take the leap.
"I was not gonna settle. I was like, 'I'll die alone, that sounds fine.'" But then I met this dude," Schumer began. She continued: "He's really funny, he's really smart, and I then I just fell in love with this idiot."
9. Schumer Says She Knew A Few Weeks Into Dating Fischer Was "The One"
While on a press tour for I Feel Pretty, Schumer told TODAY that after a month of knowing Fischer, she knew she wanted to marry him, as People reported.
10. He's Going To Be An Amazing Dad
In October of 2018, Schumer announced via her Instagram page that she and Fischer were expecting their first child together. Us Weekly reported that shortly afterwards, she told fans at A Night With Amy Schumer that the first trimester had been "nonstop puking," but that she was looking forward to feeling better again, because she "married a chef because [she's] a f*ck*ng genius," and that Fischer is more than ready to help her combat any craving. Genius, indeed.