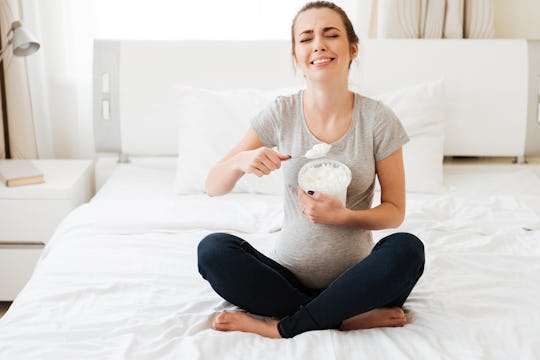 Fotolia
10 Fights Every Pregnant Woman Has With Herself In The 3rd Trimester
When you're pregnant, your hormones aren't the only thing that get sent into overdrive. You've got so much on your plate, from doctors appointments, to setting up a space for your baby, to figuring out how a baby fits into your work life and relationship. In other words, it's easy to start obsessing over every move you make by the time you near your due date, which is why there are a lot of fights every pregnant woman has with herself in the third trimester. No really, this is a thing.
During my pregnancy with my first born, I felt pretty confident about life in general and my choices. Until I reached my third trimester, of course. When month seven rolled around, and my pregnancy was super real at that point, I went into freak out mode. I especially remember discovering that I hadn't filled out a book someone had gifted me called "The Belly Book", where you document (in photographs) your growing belly, how you felt each month of your pregnancy, what you craved, and how big your baby was at that time. I believe there were spaces for ultrasound photos as well.
When I noticed I had completely forgotten to complete this project, I felt like a slacker and immediately started scrambling. I raged at myself for having been so thoughtless. While I internally fumed, I downloaded every photo I could find that showed my stomach and tried to make it fit the book's timeline. I decorated the book's pages, and filled out that sucker like a boss pregnant woman who had been diligently tracking her belly all along. I imagined that one day, when my baby was grown, I would show him how hard his mama had worked to write down every moment of his fetus life.
I never opened the book since having completed it. It collects dust on a shelf next to the photo albums and I doubt my son would ever find himself thrilled about his mom taking selfies. At the time, however, it felt like the most important thing I could do, and that my not having done it was worthy of a good self-scolding.
That was not the only fight I had with myself during my third trimester, either. Here are a few other kinds of fights I had, that I think other moms nearing their due date can relate to: