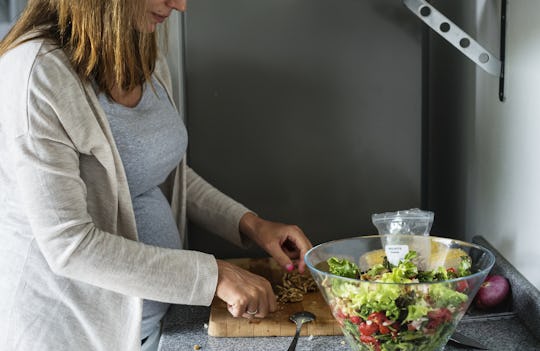 Rawpixel.com/Fotolia
Don't Skip The Cravings, But Here Are 10 Foods You Should Try To Eat During Pregnancy
While pop culture often depicts pregnancy as a time to indulge in cravings for sweets and high-fat food, proper nutrition is vital to the well-being of mother and baby. After all, as a nutritionist friend of mine once said, nature's priority is to nourish the new life. Whatever vitamins or minerals are lacking in your diet will be depleted from your own reserves and passed to your fetus. That's not to say you have to skip the ice cream (after all, it has calcium), but there are some foods to eat during pregnancy whether you're an omnivore, vegetarian, or vegan.
Over email, three OB-GYNs share with Romper the recommendations they give their patients for healthy eating and weight gain during pregnancy. Elizabeth West of Miller Children's & Women's Hospital in Long Beach, California says, "In pregnancy it's important for a patient to try to get as much nutrient-rich food as possible. Focusing on whole grains, lean protein, and fresh fruits and vegetables is very important. Eating foods that are minimally processed and avoiding packaged foods is best since they contain a huge amount of salt, which can worsen blood pressure and pregnancy-related swelling. It's also important to take a daily prenatal vitamin."
A healthy diet during pregnancy should lead to a weight gain of about one to two pounds per month, says Mary O'Toole of Saddleback Medical Center in Laguna Hills, California. Your doctor may recommend a little more or a little less total weight gain for you depending on your pre-pregnancy condition. O'Toole recommends a combination of grains, milk, cheese, fruit, and vegetables. She does note, however, that "women should avoid fish high in mercury like shark, swordfish, tuna, and mackerel. I advise against raw fish like sushi... deli meats may be consumed but I advise heating to kill any bacteria. No unpasteurized cheeses, limit caffeine, and no alcoholic drinks." And regardless of your dietary preferences, O'Toole urges her patients to get plenty of protein in their diet.
Since pregnancy can make you a little spacier than usual, try MemorialCare Orange Coast Medical Center's Yen Tran's acronym for remembering what foods to eat: ABCDEFG (avocado, broccoli and berries, choline, DHA and vitamin D from an Omega 3 fatty acid supplement, eggs, and grains). Here's more on these healthy foods and others, including special concerns for vegetarians and vegans.