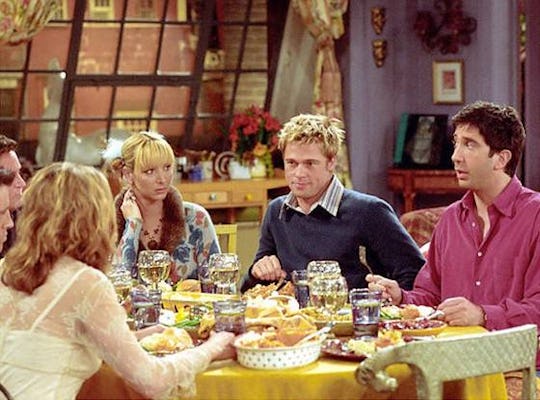 NBC
Here's All 10 'Friends' Thanksgiving Episodes You Need In Your Life ASAP
It's almost turkey day and you know what that means — food, family, and reruns of Friends (not in that order). Falling into this kind of rerun hole may be a new tradition all on its own and totally worth it. And while you might not know how the day will shakedown, Monica, Rachel, Phoebe, Ross, Chandler, and Joey will make any holiday tension disappear, guaranteed. Seriously, they bring people together. With that said, there are a total of 10 Friends Thanksgiving episodes everyone needs to watch. Because this is living, people.
Full disclosure: I don't believe in ranking episodes of Friends. It feels blasphemous. They all represent different versions of happiness. It's like choosing your favorite child or pet. Whether it's the episode with Joey claiming something is a "moo point," like a "cow's opinion," or the one where Rachel made her (now) infamous English trifle with layers of custard, jam, meat, custard, peas, bananas, and whipped cream (because the recipe pages were stuck together), Friends has a timeless quality few other shows have ever been able to achieve.
There's a reason the show is still one of the most quoted sitcoms of all time and no, I'm not sorry. Actually, Rolling Stone ranked Friends as number 26 of 100 best shows of all time, while Ranker claimed it to be the "Greatest Sitcom of All Time." No matter where you put them, it's undeniable — the holiday episodes are an excellent start to the season so here's all 10 Friends Thanksgiving episodes, in order of air date. Go ahead and try to choose a favorite; I dare you.