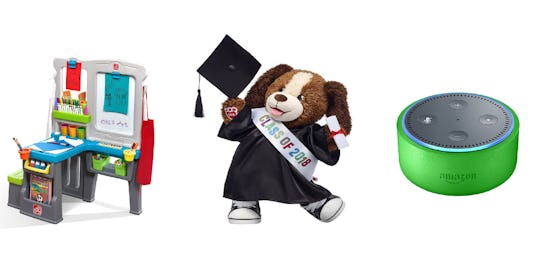 10 Graduation Gifts For Kindergarten Students That Will Reward Their Big Milestone
Every milestone your child reaches is significant and worth celebrating, especially when it's related to academic achievements. Sure they have a long way to go before they graduate from Harvard, but every little step forward is a big deal, including their kindergarten graduation. You'll want to commemorate their big day with balloons and cake, but don't forget to get them a present to really make their day special. There are some great graduation gifts for kindergarten students that are practical, helpful, and reward them for this huge milestone.
Seeing your cutie in a cap and gown is a gush-worthy moment, but it also is one of those milestones that fills you with pride. And when your graduate sees all the praise and reward they are getting for their success, it will teach them the importance and value of doing well in school, and hopefully inspire them to be great students in the future.
So when shopping for a kindergarten graduation present, get them a gift that will not only be fun and exciting, but will also be one that they can remember. Here are a few awesome graduation gifts that your kindergartener will get a kick out of and make their big day special.