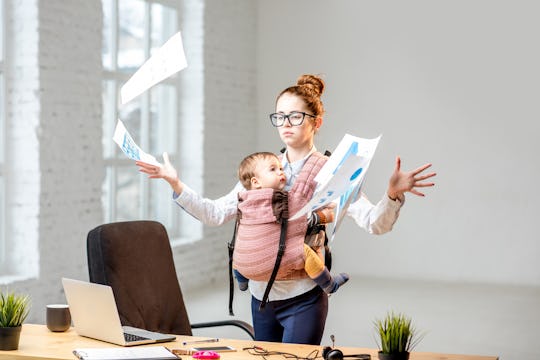 rh2010/Fotolia
10 Hilarious Instagram Captions For Mother's Day, Because Humor Is Necessary
Mother's Day is a time for letting your kids know how much you love them and the mamas in your life how deeply you appreciate them, right? But, like every day spent as a mama, it's also a solid time for laughing at this crazy thing you call parenthood. After all, the imperfections are kind of what it's all about and part of what makes it easier is having a good laugh at it all. That's why these hilarious Instagram captions for Mother's Day are the perfect way to sum up your feelings about the occasion.
Because whether you want to have a good laugh at the fact that you feel like a hot mess in your final trimester of pregnancy or need someone to remind you that everyone has their ups and downs on the roller coaster of mom life, these captions will help you — and, hopefully, your fellow moms — keep it all in perspective.
At the end of the day, the humor is what helps us stay sane, but it's those faces that also help us keep our heads above water, too. At the end of my worst days, the one thing I always try to keep in mind is that my daughter is safe and loved. Because sometimes that's the least — and the most — that you can lean on.