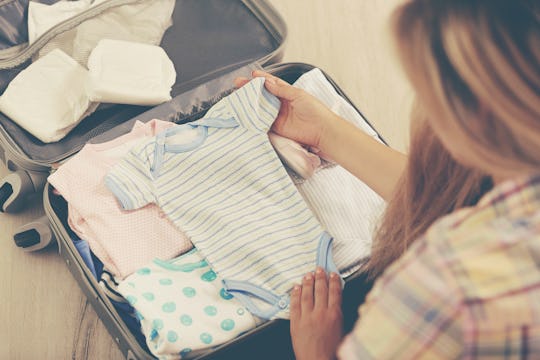 Africa Studio/Fotolia
10 Hospital Bag Essentials You Need If You're Giving Birth For The First Time
Your due date is near and you're nesting — a lot. You've prepared the nursery, bought all your necessary baby gear, and are now anxiously awaiting your baby's arrival. In all the baby fog however, you have forgotten to figure out which things you will need when you are in the hospital. If this is your first baby, you may not know what to pack, because... you really don't. So, to make your life a little easier, here's a list of hospital bag essentials you need if you're giving birth for the first time.
With my first baby, I had no clue what I would need, so I packed everything I could. I ended up with a suitcase of stuff I barely needed. But of all the things I packed, it was surprisingly the weirdest things that gave me comfort, like having my favorite fragrance and a pair of beautiful, silky pajamas. I think that after giving birth — where you are physically and emotionally falling apart from the pain and general yuckiness — it feels unbelievably amazing to put yourself back together.
A nice hot shower, your own shampoo, and scented soaps and lotions, along with pretty comfy pajamas can make you feel like yourself again after giving birth. Aside from the pretty stuff, it's important to take essentials, like your favorite brand of maxi pads, and good sturdy underwear for the bleeding after birth. So along with your ID, keys, and wallet, these essentials will have you covered for your stay at the hospital.