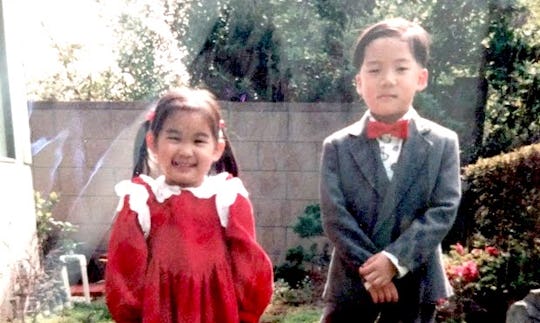 Courtesy of Anne Vorrasi
10 Instagram Captions For National Siblings Day That Are As Real As Your Relationship
April 10 is National Siblings Day, and that, of course, means finding an adorable pic of you and your sib(s) as kids and posting it on Instagram. Finding the perfect caption for your National Siblings Day Instagram post can be tricky, but don't worry, because I've come up with a bunch to get you started. And once you've found that perfect image of you making sandcastles, or playing dress-up, or taking a bath, or trick-or-treating, you'll be ready to input the caption and go.
There's something for every type of sibling relationship, so take your pick. And it doesn't matter what your current mood is: Whether everything's going swimmingly between you, or you're in a bit of a stormy patch, you've got options for how to celebrate the day on social media. Who knows — if things happen to be a little rough right now, maybe some Insta fun will smooth it over.
And even if it is a little frivolous, enjoy this opportunity to celebrate one of the most important relationships in your life. We've got Valentine's Day, Mother's Day, Father's Day, and even Grandparent's Day, which cover most of the basics. But we don't have any other holidays for celebrating the person or people we grew up with, and who had a huge influence in making us who we are today.
This article was originally published on