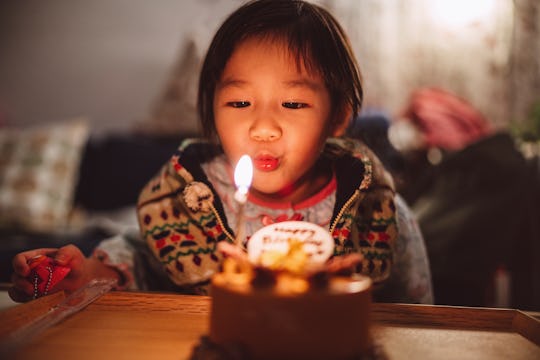 Images By Tang Ming Tung/DigitalVision/Getty Images
How To Give Your Kid An Amazing Birthday Party When You Can't Leave The House
Whether you had a big party planned or not, being forced to stay in the house for your birthday is a bummer, especially if you're a kid. Social distancing has made just about everything more complicated, but with the right kid's birthday party ideas you can still celebrate your little one's big day at home. All you need is some imagination (and a little sugar wouldn't hurt).
Everyone is struggling with serious cabin fever as they work to slow down the spread of COVID-19, and while the mission is certainly a worthy one, there's only so much you can do at home to keep your family entertained. Kids are having an especially tough time because their routines are out of whack, they miss their friends, and they may be too young to really understand why these measures have to be taken. If they're also coming up on a birthday, they may be feeling pretty down about the entire situation.
You can promise to have a big celebration when all of this is over, but that won't replace their actual birthday. An at-home party with no actual guests may not be your ideal situation, but try to remember that the celebration has less to do with where you have it and more to do with how you make your child feel. Here are 10 ideas to help you make the day fun and memorable.