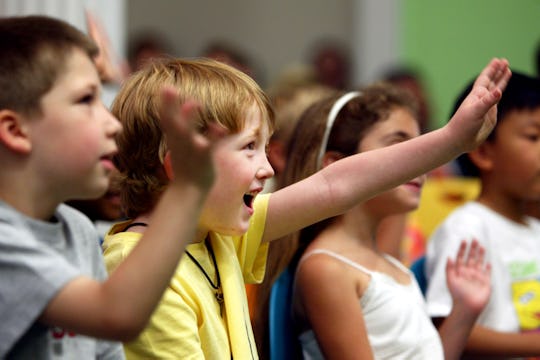 Chris Hondros/Getty Images News/Getty Images
Is Your Kid Graduating From Kindergarten? Here Are 10 Fun Gifts For Their Classmates
When your kiddo graduates kindergarten it feels like a pretty big rite of passage. They're leaving their pre-elementary years behind, but they're taking friendships with them that might just last into adulthood. If your kindergartener has really bonded with a bestie this past year, or even the whole entire class, now's the time to find a sweet graduation present for them to give to their best pal. There are some seriously cute kindergarten graduation gifts for classmates out there that'll come in handy this summer, or even for years to come.
I met my friend Liz when I was in kindergarten and we're still great friends today, nearly three decades later. There's something pretty incredible about a friend who has been with you through every stage of your life — from grade school crushes to high school heartbreaks, from career wins to mom fails. A lifelong friend is something to be cherished. And just think, your little guy or gal could be cultivating that kind of relationship right now.
To support that burgeoning friendship that's blooming right before your eyes, check out some of these adorable kindergarten graduation gifts. And trust, the look on your child's face giving it will be priceless.