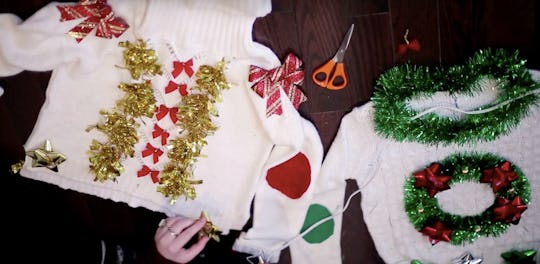 TheSorryGirls/YouTube
10 Last-Minute Tacky Sweater Ideas For Every Holiday Party
If you're like me, then the ugly sweater holiday party trend has you reminiscing about your youth. Flip through pictures at my parents' house and you'll find photo after photo of me wearing a turtleneck topped by a chunky sweater that's been emblazoned with puffy-paint trimmed snowmen or a rosy-faced santa. Nowadays, of course, I would love to have a few of those options around when searching for the perfect getup for an ugly sweater party, but who would have known this would become a thing? Oh well, I've dug up some pretty solid last-minute tacky sweater ideas below that I think might meet your standards.
No time to whip on up on your own or go shopping? Consider raiding your mom's closet or even digging through your own. You might be surprised by the oldies — but in this case goodies — that you'll find lurking in there. One year I scored a cardigan decorated with little sheep wearing wreaths around their necks. My mom's not mine — swear.
If you have a bit of time, then you're bound to find an option that suits you below. Take notes and put on your crafting panties (or shopping shoes) because it's time to get tacky.