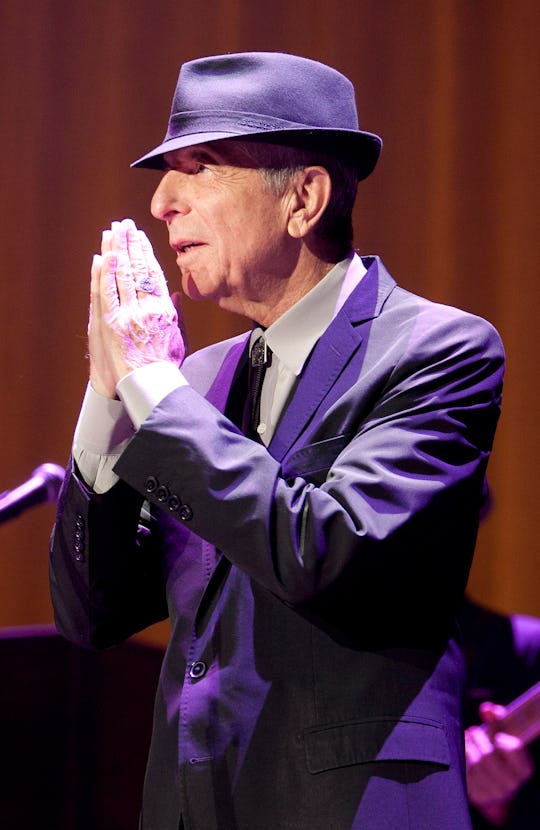 Mike Lawrie/Getty Images Entertainment/Getty Images
10 Leonard Cohen Quotes That Are Exactly What You Need To Hear Right Now
This week has been especially hard. The presidential election, while over, took a lot out of millions of people. And now, on Thursday, news broke that the world lost a true talent, Leonard Cohen. Cohen's death was announced on his Facebook page, stating, "We have lost one of music's most revered and prolific visionaries." Indeed we have, but his talent and his artistry will live on for years to come. And if that silver lining doesn't seem possible right now, these 10 Leonard Cohen quotes will be exactly what you need to hear to feel better about the emotional turmoil that has been occurring in this world as of recently.
Cohen was a wordsmith through-and-through. He was a poet, a singer, a songwriter, and novelist. He knew how to catch the emotions of his readers and listeners, and once he had their attention, he showed just how talented he was.
If you feel lost, or upset, or just looking to feel emotions after a particularly draining week, allow these quotes to sweep you up and take you to another place. They embody the talent, the grit, and the honesty that Cohen was so known to have.
1. "There Is A Crack In Everything..."
2. "To Laugh And Cry And Cry..."
3. "Love Is Not A Victory March..."
4. "Even Though It All Went Wrong..."
5. "I Was Cautioned To Surrender..."
6. "Past The Reefs Of Greed, Through The Squalls Of Hate..."
7. "A Song That Is Useful..."
8. "When You Stop Thinking About Yourself..."
9. "Until The Sea Shall Free Them..."
10. And This Sage Advice
Though fans will absolutely miss the legend, these quotes, along with his other music and writings, will live on forever. We can be thankful that we were offered his gift during his time on earth, and cherish what he has left us with.