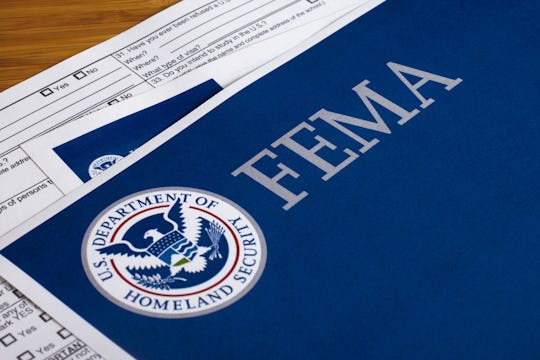 Fotolia
Millions Moved From FEMA For ICE Detention Centers Where Hundreds Of Kids Remain
The Trump administration has been accused of funding one of its most prominent disasters with money that was meant to be used to clean up a prior one. As the East Coast braces for Hurricane Florence, a budget document released by Oregon Sen. Jeff Merkley Tuesday night reveals that the Department of Homeland Security transferred nearly $10 million from FEMA to fund ICE detention centers. In addition to FEMA's operations and support budget, ICE also dipped into Customs and Border Protection's budget, using money meant to pay for border fencing in order to pay for detention and removal operations, which seems a little like tearing your front door off the hinges, then using it to shoo a fly out of the house.
All told, DHS allegedly moved more than $200 million from other agencies' budgets in order to fund the internment of migrants seeking asylum within the United States. But regardless of the many opposing views Americans have on immigration, I think most of us can agree that FEMA probably isn't the best agency to pilfer funds from, particularly when hurricane season is just ramping up. In a statement provided to the New York Times, DHS denied that any of the money came from accounts intended for disaster relief. But FEMA's mission statement, "Helping people before, during, and after disasters," tells you everything you need to know: it doesn't matter what line item each dollar falls under, every dollar FEMA gets is for disaster relief. That's literally all they do. Or should do, at any rate.
Following Merkley's reveal during The Rachel Maddow Show on Tuesday night, DHS Press Secretary Tyler Q. Houlton responded to public outcry via an indignant Twitter thread:
Under no circumstances was any disaster relief funding transferred from @fema to immigration enforcement efforts. This is a sorry attempt to push a false agenda at a time when the administration is focused on assisting millions on the East Coast facing a catastrophic disaster. The money in question — transferred to ICE from FEMA's routine operating expenses — could not have been used for hurricane response due to appropriation limitations. DHS/FEMA stand fiscally and operationally ready to support current and future response and recovery needs.
But FEMA's 2018 budget, which is available to the public online, clearly shows that money allocated for "Operations and Support" funds, among other things, "Preparedness and Protection" and "Response and Recovery," and the document that Merkley released shows that ICE did in fact take money earmarked for those two categories.
Other money was taken from "Mission Support" and "Regional Operations," budgets that one might argue aren't as critical. FEMA told the Times that the accounts DHS looted were used to pay for travel expenses and employee training, "among other things." But those are two areas where the agency obviously has room for improvement. Last year's catastrophic response to Hurricane Maria in Puerto Rico left nearly 3,000 American citizens dead, and some are still without power, less than two weeks before the anniversary of the disaster.
A recently report by the U.S. Government Accountability Office cited staffing shortages and the "logistical challenges" of deploying personnel to Puerto Rico as contributing factors to FEMA's failure in Puerto Rico. "FEMA's available workforce was overwhelmed" by the demands of the 2017 hurricane season, the report stated. In October, more that half of FEMA's staff was, by the agency's own standards, unqualified for their roles. FEMA officials also blamed a "lack of trained personnel" for its lackluster performance. That's why, according to the GAO, Congress had given the agency more than $120 billion in supplemental funding by June 2018. And then they gave some of it to ICE to pay for baby jails.
Meanwhile, President Donald Trump claims that "Puerto Rico was an incredible, unsung success," according to CNN. I guess that's why the administration is cool with FEMA's funds being used to incarcerate migrant children, more than 400 of whom are still separated from their parents more than two months after a federal judge ordered ICE to reunite families. One wonders how Trump will characterize that debacle a year from now. And, perhaps more crucially, how his administration will handle the next disaster.