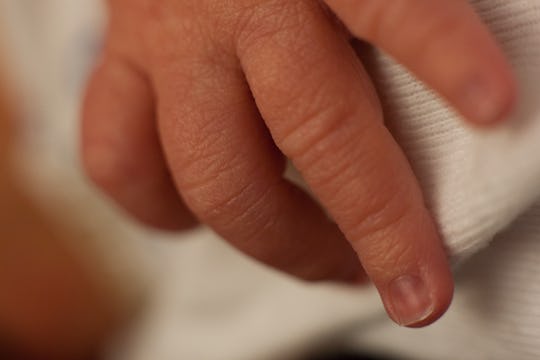 Lars Plougmann/Flickr
10 National Adoption Day Quotes That Capture What's Hard & Amazing About Adopting
Thanks to the influence of celebs like Angelina Jolie and Madonna, who made headlines for adopting kids from different countries, it may seem like society is more open, or at least has more relaxed attitudes, toward adoption. After all, if celebs influence the way we spend our money on pop music and action films, it's entirely possible they could influence the way we build and raise our families. But on National Adoption Day, Nov. 21, it's good to remember that there are still plenty of kids who need homes. More than 100,000 children in America are in foster care, just waiting for a permanent family — celeb or not, doesn't matter — to call their own. And it's also good to pay tribute to the experiences of all of the parents who have taken the plunge and adopted domestically or internationally and the profound experience that has been for them.
Here are a few quotes that capture the reality of adoption — the hard parts, the amazing parts and the parts when you feel like you wouldn't have wanted it to happen any other way. Whether you've adopted, are looking to adopt or have never considered it before, these perspectives are a good reminder that you don't have to be blood-related to be a mom or change someone's life for the better. And the often-long process to get there is totally worth it.
"Anyone who ever wondered how much they could love a child who did not spring from their own loins, know this: it is the same. The feeling of love is so profound, it's incredible and surprising."
— Nia Vardalos
Of course the star of My Big Fat Greek Wedding found a way to perfectly express what really makes a family.
"I'm not gonna lie. There were wrenching moments. I say to everybody, 'Adoption is not for the faint of heart.'. . . Adoption was a bumpy ride — very bumpy. But, God, was it worth the fight."
— Mariska Hargitay
Adoption was hard even for Detective Benson. Keep fighting.
"I speak about family and adoption because it 100% changed my life and who I am. It definitely played a very large role into just learning how to be grateful for what you have."
— Jenna Ushkowitz
Glee star Ushkowitz was adopted from South Korea when she was three months old, and founded Kindred: The Foundation for Adoption in 2014 to support adoptees and their families. Ushkowitz and her words are confirmation (not that any should be necessary) that adopted kids a) turn out great and b) feel good about adoption.
"I don't think it's for everybody, and I don't think everybody should adopt — I'm not some crazy idealist. It's not about the cause for me. But I do think no one should ever rule it out."
— Katherine Heigl
Heigl, whose sister is adopted, adopted her daughter, Naleigh, from South Korean in 2009. As she says, it isn't for everyone, but it's an option that can yield profound rewards.
"Meeting your adoptive baby is like being set up on a blind date with someone you will have to spend the next eighteen years with. You care about looks, because you desperately want to fall in love with the stranger who will be your child."
— Jana Wolffe, Secrets Thoughts of an Adoptive Mother
It all boils down to wanting to fall in love.
"I believe one of the most sacrificial acts of love adoptive parents can do is to give up their preconceptions and agendas about what their child's views 'should' be and be open to hear the conflicting emotions and thoughts their child often experiences."
— Sherrie Eldridgem, Twenty Things Adopted Kids Wish Their Adoptive Parents Knew
Openness is everything, since some kids come with difficult experiences you're not aware of.
"And even though I adore the fact that Francesca has Ben's eyes, I also see now that her biological connection to us is irrelevant. She is her own little person. She is Francesca. If we weren't her "natural" parents, we would still have loved her just as much."
― Liane Moriarty, What Alice Forgot
You don't have to be blood-related to be family. In fact, blood doesn't have to matter at all.
"There are times when the adoption process is exhausting and painful and makes you want to scream. But…so does childbirth."
— Scott Simon, Baby, We Were Meant for Each Other: In Praise of Adoption
Being a parent is going to be hard, no matter which avenue you use to get there.
"There are no unwanted children, just unfound families."
— National Adoption Center
Every child is valuable, and it feels great to be a family that was found.
Images: niavardalos, therealmariskahargitay, jennaushkowitz, katherineheigl/Instagram; James Emery, Lars Plougmann, Patrick Nygren, Spirit-Fire/Flickr; Pixabay