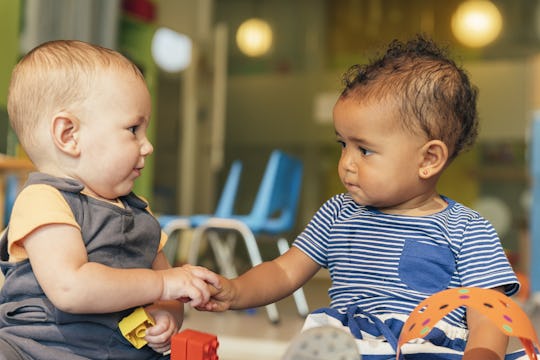 santypan/Fotolia
Parents, Don't Pick A Daycare Without Asking These 10 Questions First
Choosing a daycare for your child can be an overwhelming and terrifying process. Even if you're thrilled to be getting back to work, the prospect of your little one spending the day apart from you is enough to give any mom a mild panic attack. That's why finding out as much as you possibly can about a daycare before you settle on one is so important: Not only will the knowledge put your mind at ease, it's essential for your child's safety. So what are some questions you should ask a daycare before you enroll your child?
First of all, you should never feel weird about asking as many questions as you want. Don't worry about coming off like a nervous wreck: Daycare workers are used to dealing with stressed-out parents, and it's perfectly natural. This is a huge decision, after all. Knowing that the people you're paying to look after your child every day are qualified and that their policies and practices are in line with your own priorities will be a tremendous comfort, especially if there's a big, tearful display at drop-off time. (Which there will be, sometimes. But not all the time.)
Remember, when a daycare is safe and staffed with kind, nurturing caregivers, the experience can benefit your child in so many ways. And luckily, there are many truly amazing child care centers out there... you just need to know which questions to ask to find the right one.