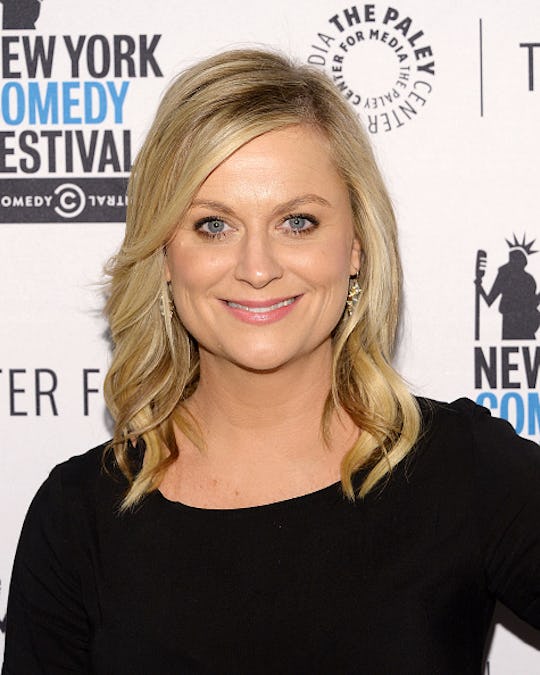 Ben Gabbe/ Getty Images Entertainment/ Getty Images
10 Reasons We Wish Amy Poehler Was In Our Online Mom Group
When I was pregnant with my first child, I joined an online mom group. It started out as a message board and gradually morphed into a Facebook group. Yes, of course, it has had its ups and downs and dramas: it's the Internet. Mix the Internet with with about 150 new moms, all full of postpartum hormones, sleep deprivation, and Big Ideas About Parenting as only a new and inexperienced parent can have and you basically have everything you need for the perfect storm. It's like the 2000 film of the same name starring Marky-Mark Wahlberg and George Clooney, only instead of facing the world's scariest Nor'easter and drowning at the end, it's all about whose parenting philosophy is damaging and how whatever you're feeding your baby is going to kill it. You can almost see George Clooney and Mark Wahlberg floating among the wreckage, clinging to flotsam for dear life as they whisper, "I just asked who was going to let their baby cry it out..."
But almost five years later, the dramas are few and far between and I still talk to these woman almost every day. They're my Mom Coven and many of them have become friends; I love their babies and they love mine.
But do you know who would make my online mom group even better? Amy F**king Poehler. I mean, I'm pretty sure Amy's involvement in literally any aspect of my life would make it better, but my mom group especially. Go ahead and show me someone cooler than Amy Poehler. I'll wait... You can't. You can't show me anyone cooler than Amy Poehler. Maybe you can find someone as cool, like Margaret Cho or Mindy Kaling or Imperator Furiosa from Mad Max who I know is not actually a real person, but I want her to be so badly. But you cannot point to anyone cooler. Amy is awesome and I want her to join my mom group. Here's why...