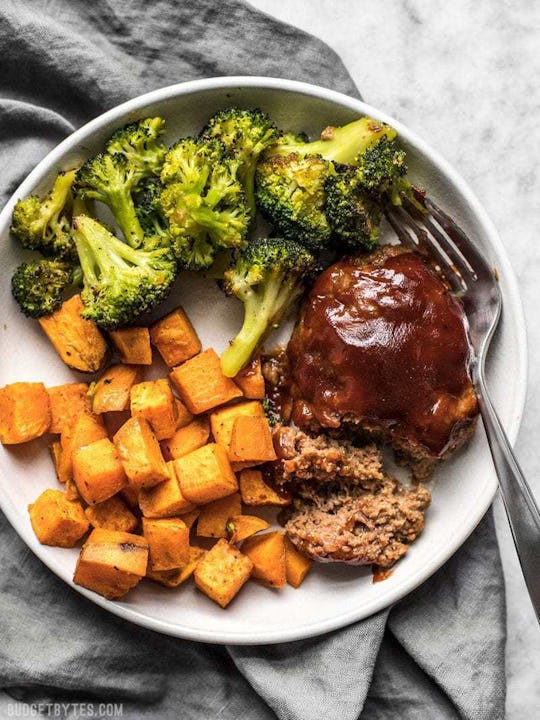 These Sheet Pan Dinners Are Perfect For The Pickiest Of Eaters (BBQ Meatloaf, Y'all)
My kids are the pickiest of picky eaters. My son likes everything spicy and crunchy, and my daughter likes all of her food to be the same color and texture — roughly beige-ish. There are precious few meals I can create that both children will eat, and usually, they're pretty elaborate. Since I don't have time to roll out the holiday recipes every day of the week, I've had to get creative. In doing so, I've found sheet pan dinners for picky eaters that satisfy both children, and make my life so much easier.
Sheet pan suppers follow a pretty narrow set of guidelines: everything needs to cook at the same temperature for the same time, they need to be easy, and they usually have a vegetable, a protein, and a starch. There are countless possible iterations, but the best ones tend to be well seasoned, with the meat being marinated. Chicken and sausage tend to do the best with this treatment, but fish and shrimp is surprisingly agile as a sheet pan protein as well.
I am not going to lie. Many of these recipes were chosen because they are dead simple, and taste good slathered in whatever hot sauce my kid is crushing on that day. After writing all day, and then running errands, I don't always have a ton of time to get dinner together. Sheet pan suppers mean fewer dishes get messy, dinner is on the table quickly, and I get to sit back with a cup of tea and forget about my troubles for a minute.